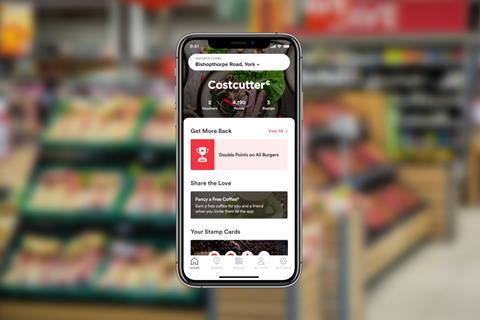 Costcutter is trialling a customer loyalty app across 23 company-owned stores in a bid to build longer-lasting relationships with shoppers.
The three-month trial will allow users to make instant payments and access exclusive promotions, as well as collect and redeem loyalty points in their chosen store.
Shoppers need to register a payment card in the free app, created by Yoyo, in which they can promptly pay for their goods by scanning a QR code in store.
Shoppers collect one point for every penny spent, and are then given access to exclusive offers in store as they build up points.
"We're continuing to develop our local, mobile, and social marketing and we are thrilled to be launching the trial of our first ever customer app, created by Yoyo, which will not only support loyal shoppers but also give them an enhanced experience in store," said CSG director of marketing Sean Russell.
"We are always looking at new ways to reach and engage Costcutter shoppers and this new trial in our company-owned stores will be a great way to help us demonstrate how we can build shopper penetration and increase basket spend.
"It will also help us build deeper and longer-lasting relationships with shoppers, converting many of new 'lifeline' shoppers who may have trialled their local store during lockdown, into lifelong loyal customers.
"The app will provide us with real-time transactional data, which will allow us to better understand shopper behaviours and adapt our campaigns to better suit customers at a local level. It will also give us the capability to personalise content to specific shopper personas, missions or locations, as well as providing measurable ROI."
Yoyo MD JP Kloppers said: "Today's shopper is demanding a more rewarding, more personalised and more convenient shopping experience.
"We are excited to be working with a market-leading company that recognises this. Through the app we believe that Costcutter will be able to accelerate building stronger and more mutually beneficial relationships directly, with new and existing shoppers alike.
"We are excited to launch the trial with them and to partner on further developments in the coming months, following the results of the trial."