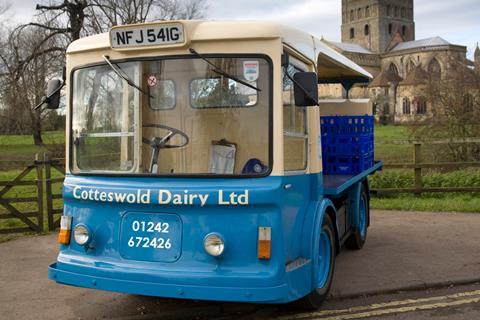 Soaring demand for doorstep delivered milk over lockdown helped Gloucestershire-based supplier Cotteswold Dairy grow sales by almost 10% last year, latest accounts have shown.
The supplier saw sales climb by £5.3m to £58.9m during the period between 29 December 2019 to 2 January 2021, according to its annual report, filed with Companies House.
Pre-tax profits also grew significantly, rising by 47.7% to just under £2m on the back of a "substantial increase in demand for doorstep and retail sales", the business said.
Cotteswold sells a range of milk and daily essentials to more than 20,000 doorstep customers across large tracts of England and Wales. It operates from depots in Cheltenham, Shropshire, Llandudno and a new site in Hereford – acquired earlier this year.
The business also supplies a wide variety of standard, free-range, organic and regional milk to more than 90 independent rounds while selling into retail and foodservice, via customers in offices, schools and nurseries. The milk sold through milk rounds is sold in glass bottles, with Cotteswold bottling more than a million a week.
Despite seeing a dip in foodservice sales at the start of the pandemic's first lockdown, Cotteswold was "quick to react and respond to the increase in demand for doorstep and retail services by redirecting resources and expanding our offerings to meet customer needs", it said.
These actions, coupled with a stable milk price, "outweighed the pressures on our other market sectors", the company's directors added, resulting in the business "generating a healthy profit for the year".
The supplier had also retained "the majority of [new] customers after lockdown", director Louise Woodward told The Grocer. She added it had seen about a 15% increase in demand at the doorstep, with consumers looking to reduce plastic use also a strong growth driver.
Further to its acquisition of the Hereford-based Bartonsham Farm Dairy in April, and plans to expand its Tewkesbury HQ, Cotteswold was also seeking further "opportunities for both organic and acquisition growth that will strengthen the wider group's operations and financial position in the future", the company's annual report added.