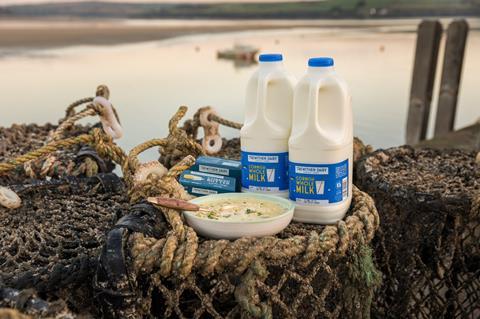 Sales at Trewithen Dairy fell back last year as disruption caused by the coronavirus pandemic brought three years of strong consecutive growth to an end.
Latest accounts for parent company Cornish Farm Dairy, for the year ended 30 April 2020, showed revenues declined 6% to £52.1m as the first national lockdown led to a collapse of its foodservice, hospitality and tourism business at the tail end of the accounting period.
Pre-tax profits also slipped 36% in 2019/20 from £2.2m to £1.4m.
Trewithen has seen turnover soar 85% in the previous three years from below £30m to £55.3m as it grew its own-label milk business and expanded its range of branded milk, butter, yoghurt and clotted cream.
Despite the damage caused by lockdown, MD Francis Clarke said the business delivered "a satisfactory" performance as it consolidated the significant growth of recent years.
"We also laid the foundations for further growth and development of the business, which are being realised in the current financial year with the securing of further significant new business and growing sales of added-value products," he added.
The ongoing lockdown continued to have a major impact in the new financial year, but the performance continued to be "stable and satisfactory".
There was a rapid recovery in the summer as hospitality reopened and, despite further Covid restrictions later in the year, the business continued to trade well.
Profitability for 2020/21 is expected to be in line or slightly improved on last year.
Clarke said: "In the current financial year, despite the challenges of the Covid-19 pandemic, the business has continued to deliver a satisfactory performance. Central to this has been the business's resilience and agility, which reflect our strong underlying financial fundamentals; ability to deliver high levels of product quality and customer service; and well-invested processing and distribution capabilities."
Trewithen has benefitted in the new financial year from strong retail sales and a host of "significant customer wins, retentions and strategic developments".
The dairy secured a major new contract with Appleby Westward to supply Trewithen branded milk and yoghurt to more than 170 Spar stores in the South West, building on an established relationship for its butter and clotted cream.
In November, the company also developed a dedicated wholesale division, establishing a separate wholesale management team and investing in a new distribution centre at St Columb Major.
Trewithen also acquired Falmouth-based dairy produce supplier Lillie Brother, which gave the group an established wholesale and DTC business.