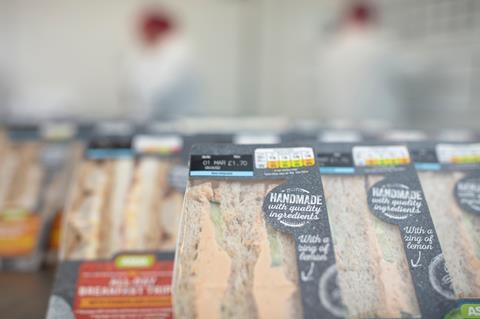 Sales fell by a further 19% in the first half at Greencore as coronavirus restrictions continued to hit its food to go business.
Revenues were down 19% to £577.1m in the six months to 26 March, with revenues down 18.6% on a pro-forma basis after adjusting for the disposal of its molasses businesses during the first quarter and currency movements.
Group operating profit was down to £3.9m compared to £35.6m in the same period last year, while adjusted operating profit fell by 99.5% to £0.2m.
Greencore said the UK trading environment remained "very challenging and volatile", most notably in its key food to go categories where it suffered from a pronounced reduction in mobility due to extensive lockdowns for most of the first half.
This was paratly mitigated by the its strong market position in supplying grocery retailers, the only channel to remain substantially open in the period.
In Greencore's food to go categories (comprising sandwiches, salads, sushi and chilled snacking) reported revenue was down 25.6% to £339.2m, with pro forma revenues approximately 30% below prior year levels in Q2, compared to a 22% reduction in Q1.
The group's other convenience categories, which comprise of chilled ready meals, soups and sauces, ambient sauces and pickles, frozen Yorkshire Pudding categories, and more, were down by 7.4% to £237.9m in the period with organic sales down 5.6%.
Operating profits were hit by this reduction is sales as well as £4.8m of COVID-19 related costs, including £2.9m related to furloughed staff and £1.9m of other costs, including reconfiguring production areas.
Since retrictions have begun to ease, Greencore said it has seen "encouraging revenue momentum" in the first seven weeks of its second half.
Pro forma revenue in food to go categories is running at approximately 123% above prior year levels and approximately 14% below the equivalent pre-COVID levels in 2019.
For this period the group's pro forma revenue was approximately 64% above prior year levels and approximately 5% below equivalent pre-COVID levels in FY19
Greencore anticipates that a continued reopening of the UK will rebuild sales through the year and it expects to generated full year adjusted operating profits above 2020 levels.
CEO Patrick Coveney commented: "This has been a challenging period for Greencore, but the consistent build in our revenues since early March as lockdown measures have eased and COVID-19 cases have fallen give us real cause for optimism. Our focus now is on rebuilding revenue, profitability and cash flow momentum as the UK economy reopens.
"Our recent business wins are a great endorsement of our continuing relevance in the UK convenience food landscape. Underpinned by the quality of our people, our new sustainability strategy and the strength of our long-standing customer relationships, we are confident of being able to build back the business rapidly and profitably, and are optimistic about the medium-term prospects for Greencore."
Greencore shares ended the day down 15.7% at 144p after the lower than expected sales performance.