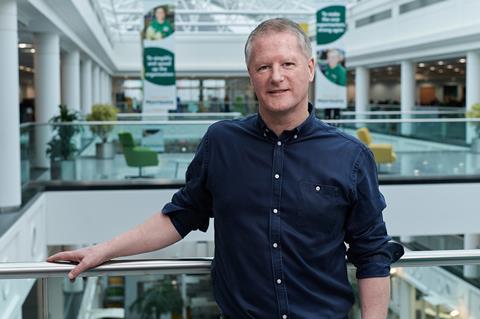 Morrisons will keep the thousands of Perspex screens installed due to the pandemic regardless of the outcome of talks between supermarket bosses and the government on the easing of social distancing measures.
Speaking at its first quarter results conference today, CEO David Potts told The Grocer the barriers would remain in place because they were reassuring to both staff and customers.
Meanwhile, more than 400 Morrisons cafés that will open on Monday as part of the government's biggest loosening yet of lockdown measures had been fitted with new screens for the long term, said Potts.
His safety pledge came despite a prediction that Covid safety costs would be "minimal" in the year ahead for Morrisons with the virus "firmly in retreat". However, the retailer announced a further £27m of Covid-related costs to cover staff absences and extra marshals in store during the second wave of the virus during the quarter.
He also confirmed Morrisons and other supermarkets had been talking to the government over its plans to relax social distancing, including a review of the one metre-plus rule, which has been in place since last year as well as the policy regarding face masks.
However, Potts said Morrisons was not relying on the end of social distancing for its confident prediction on the costs of Covid becoming "minimal".
"We will keep our screens," Potts said. "We acted pretty rapidly to install them last year and they are an important part of making sure we are protecting staff and our customers and I'm certain it's the right thing to do to keep them.
"We have also installed screens in our barista bars and cafés, which customers will see on Monday.
"I don't think social distancing is something we are relying on in order to have no Covid costs.
"Social distancing and perhaps face coverings may go at some point but I think we may find that people have become used to having a bit more space over the course of the pandemic."
Potts' announcements come despite retail leaders calling on the government to end social distancing measures, after figures showed footfall was down by 40% since before the pandemic.
With the government currently conducting a review of measures that have been in place since the first lockdown, BRC CEO Helen Dickinson said last week businesses were waiting "with bated breath" for the go-ahead to scrap the restrictions, in stores and also in warehouses.