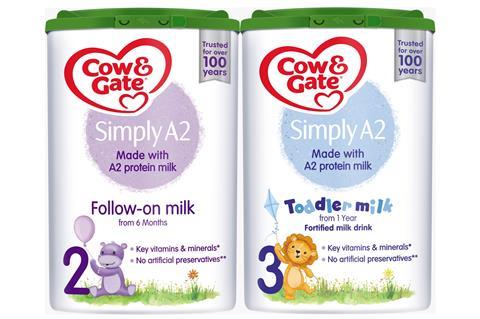 Cow & Gate is to launch a new range of baby formula it claims is the only range in UK major retailers produced with natural A2 protein milk.
The range comprises three SKUs, covering all three stages of baby feeding, said Cow & Gate.
They are: Cow & Gate Simply A2 Infant Milk (from birth), Cow & Gate Simply A2 Follow-On Milk (from 6 months) and Cow & Gate Simply A2 Toddler Milk (from 1 year).
It will debut in Boots from 1 March, before hitting Tesco, Morrisons and Sainsbury's in April, and Asda in July (rsp: £9.50-£9.99/800g).
Cow & Gate's A2 protein milk came from "carefully selected" cows that naturally produced only A2 beta-casein protein, said the brand, adding this was the "original beta-casein protein in cows milk thousands of years ago".
Danone Specialised Nutrition UK consumer marketing director Sarah Cumming said A2 protein milk had been "rapidly growing around the world in recent years".
"It's a trend that is transforming the entire dairy industry and has most recently been shaking up the formula milk market globally, with seven A2 protein formula milks launched in the last six months worldwide," she added.
The launch will be supported by a new pack design the brand said had been "inspired by simplicity and naturality", as well as a media campaign with the tagline 'Simply made for little tummies'.