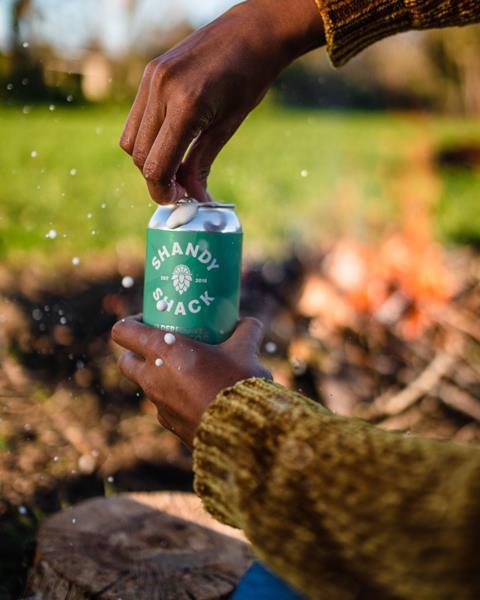 Craft beer startup Shandy Shack has raised a six-figure investment to expand in the off-trade, after the coronavirus pandemic disrupted its pop-up bar concept.
The £160k in funding, raised from three angel investors, will help Shandy Shack expand its retail distribution, develop the range and scale up marketing.
The brand's two-strong range of IPA Shandy (2.8% abv) and Elderflower Lager Top (2.5% abv) are available in Sainsbury's as part of the supermarket's Taste of the Future bay.
Founded in 2018 by Ed Stapleton, Tom Stevens and Freddie Gleadowe, the business started as a pop-up bar concept to be toured around festivals.
However, the first coronavirus lockdown in 2020 led to the bar being dismantled and the business pivoting to an fmcg brand with a rebrand. Shandy Shack pairs craft beer with natural sodas to create its low-alcohol, low-calorie shandies.
Following the rebrand, revenues grew rapidly online, with sales shooting up almost 900% between the first two quarters of 2020, which led to the Future Brands listing with Sainsbury's.
"We are delighted to have closed this round of funding from a trio of experienced and successful entrepreneurs, which reflects the market traction we've received since relaunching over the past 12 months," Stapleton said.
"We believe that moderation shouldn't be a choice between all or nothing, and we have found that 43% of UK adults are partial to a shandy. We're pumped to be restoring this secret obsession of UK drinkers to its pedestal as the most popular lower-alcohol drink in this country, and to then take the brand to other highly relevant markets in Europe and beyond."