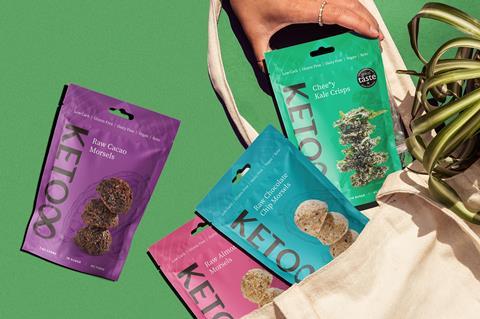 Cru8 has launched a new sub-brand called Keto8.
The new brand is aimed at tapping into demand for keto foods, with the ketogenic diet seeing a "surge in popularity" in recent years, said Cru8.
Keto8 will debut with three core ranges: Keto Sweet Treats, Keto Snacks and Keto Breads & Bagels.
Cru8 founder Alexi von Eldik said the launch would "bolster the availability of low-carb, low-sugar, truly healthy breads, snacks and desserts in the market, and also tap into the exploding demand for keto foods".
It has launched online and at Whole Foods Market, Selfridges, Fenwick, Planet Organic and Revital, with prices ranging from £2.80 for Cheesy Kale Crisps to £8.50 for a Keto Raw Caramel Slice.
Alongside the launch, Cru8 has revamped its packaging with a new look and 100% recyclable materials across the entire range, as well as launching a new website.