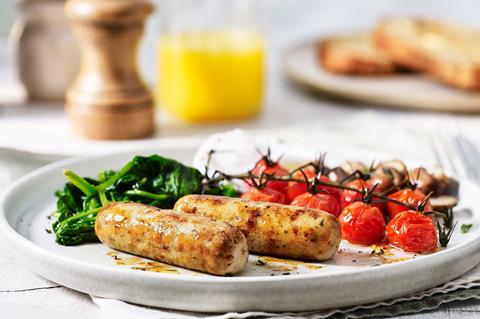 British cultured meat startup Ivy Farm Technologies has called on the FSA to adopt a more "nimble" approach to regulatory approval, after announcing plans to bring its products to market by 2023.
The business announced a £16m fundraising round last weekend as part of a move to accelerate plans to become the first British commercial producer of cultured meat.
Ivy Farm hopes to build a pilot R&D facility and double its workforce of 25 with the investment before the end of the year, as it seeks to increase the speed and reduce the costs of production of its prototype sausage, meatballs and burgers, and bring them a step closer to market.
CEO Rich Dillon told The Grocer the business – an Oxford University spinout – would target its product at the "carni-conscious" consumer and would carry a consumer-facing brand identity reflecting that ethos, which would allow the Ivy Farm brand to further develop cultured meat technologies.
"We've already had some of the supermarkets reach out to us after we made our plans public and we plan to engage further with retailers," he added.
The company believes it has the right technology to bring its product to market, and consumer research shows more than 66% of shoppers would try cultured meat – meaning the only barrier it faces is regulation, Dillon said.
And rather than adopting the approach seen by the European Food Safety Authority, which can take up to 18 months to approve similar products, he suggested the FSA – with which it was already in discussions – should take an "iterative" or staged regulation process. This would see it approve the various elements of a product as they were developed.
It comes as Singapore became the first country in the world to approve cultured meat for sale in December.
"Make no mistake, cultured meat is here to stay. It's a compelling proposition – real meat, guilt free," Dillon added. "Singapore has approved cultured meat and in Israel, Benjamin Netanyahu wants the country to become a 'powerhouse' in alternative meat. China is also investing huge amounts into the industry," he pointed out.
"We believe our technology is among the best in the world and that we can fly the flag for Britain."
An FSA spokesman said the regulator had been in discussions with a number of alternative meat companies.
"In particular, we have been providing those companies with advice about our regulated products application service (launched in January 2021 following the end of the Transition Period) and setting out what is needed to be able to sell food products on the UK market," he added.
"The approach we take to approval is the approach taken to all novel foods and is used to fully assess the safety of products before they are legally allowed on the UK market."
Ivy Farm's technology uses a small number of cells taken from an animal and placed in a bioreactor.
The cells are then exposed to a mix of vitamins and nutrients so they replicate and produce meat in as little as three-to-four weeks. The system was continuous – so muscle and fat can be harvested without disturbing cells growing underneath, the company said.
It aims to feed consumers in a series of events at its R&D facility from next year, with a retail launch at scale slated for the following year and for it to 12,000 tonnes of cultured pork a year by 2025 – equivalent 170,000 pigs.
"The way we currently produce and consume food is unsustainable," said co-founder Ross Tucker.
"Already nearly half the worldwide harvest is required to feed livestock and that's only going to go up. Cultured meat is the silver bullet – through cutting edge technology we can provide real, high-quality meat while saving the planet," he added.
"Ivy Farm will be great for the environment, great for meat lovers and great for animals as there's no slaughter."