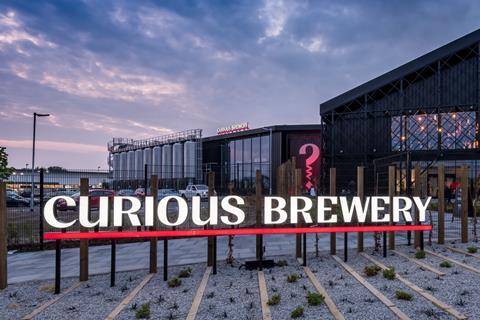 Curious Brewery has been given a fresh leadership team by its new owners.
The brand was sold by English wine giant Chapel Down to Risk Capital Partners – the private equity firm run by entrepreneur Luke Johnson – in February. It has marked the completion of the sale this month with the hiring of former Liberation Group CEO Mark Crowther as chairman, and former Budweiser Budvar boss Simon George as MD.
Crowther said Curious was "a high-quality business with a great group of people, an exceptional, premium range of superb beers and ciders, and an extraordinary, market-leading set-up with its state-of-the-art brewery, and accompanying tap room and restaurant".
George added he was "tremendously excited" to take the helm of the brand. "We see enormous potential to build this business and we are going to work very hard to ensure this fantastic collection of premium beers and ciders are available, enjoyed and shared in more places, across the UK and internationally."
When Chapel Down announced the sale in February, it said it had decided to focus purely on wine after its beer trade was "significantly impacted" by the pandemic.
Chapel Down did not recieve any consideration from the sale, but reduced its unaudited net debt from £7.2m to £0.1m with £4.6m cash on a pro forma basis at 31 December 2020.
Chapel Down invested heavily in the Curious brand over the past decade, including the opening of a massive brewery and taproom in Ashford, Kent.
Johnson said he saw "terrific potential" in the Curious business "despite the challenges of the past year".
"Curious is a great brand made in a fabulous facility, and with our support we believe the business can be developed further. The restaurant and tap rooms will be opening to welcome guests as soon as we are allowed."