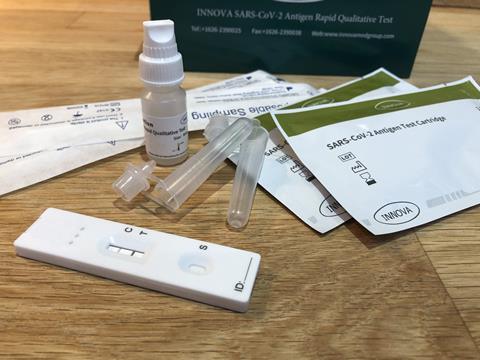 Fewer than 150 food companies are believed to have signed up to the government's new Daily Contract Tracing scheme, amid concerns over the cost and red tape, The Grocer has learned.
Defra launched the scheme on Monday amid fears the thousands of staff being "pinged" by the NHS Test and Trace app could lead to serious food shortages.
It said the scheme was aimed at "key manufacturing, food processing and wholesale sites", with 500 of the most vital sites chosen initially, and a view to a wider rollout in the coming weeks.
It will allow staff to agree to seven days of tests if they come into close contact with a positive case, as an alternative to 10 days' isolation.
However, as Covid cases have begun to plummet since last week's crisis talks with the industry on staff absence rates, The Grocer has learned even some of the key companies who have taken part in previous trials of asymptomatic testing have decided not to take part in this one.
NHS Test and Trace bosses told companies the daily testing involved a "serious amount" of training, paperwork and clinical governance.
The Grocer understands some companies have already introduced their own testing regimes and processes separate from the official government scheme. Staff from across the sector are also believed to have turned off their Test and Trace apps to avoid the threat of having to self-isolate.
A supplier source involved in the talks admitted that big operations with "fairly interchangeable" staff may be reluctant to take part.
"I think if you are a supplier that has 10 or 15 key people that ae vital to your operation then you will roll this out. The same applies to distribution centres," he said.
"But if you are a big packing operation with 500 staff that are fairly interchangeable, and you are seeing the numbers coming down then you will be reluctant.The key thing, however, is that having this system in place will create a resilience to what might come further down the track. We won't be starting from scratch if there is a new wave in the autumn."