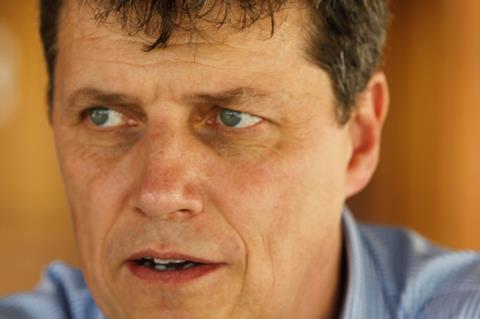 Danone has appointed Barry Callebaut boss Antoine de Saint-Affrique as its new CEO.
De Saint-Affrique, who has led the Swiss chocolate maker and cocoa processor since 2015, will take up his new role on 15 September.
The French group, which approved the appointment at a board meeting last night, said the decision followed "a rigorous selection process" led by the governance committee.
Prior to joining Barry Callebaut, de Saint-Affrique spent 15 years at Unilever, including four years as president of Unilever Foods.
De Saint-Affrique will succeed the joint interim leadership of Véronique Penchienati-Bosetta and Shane Grant.
Danone, which owns brands such as Alpro, Actimel and Evian, has been searching for a new CEO since March following the ousting of Emmanuel Faber.
The business had come under pressure from activist investors after it failed to keep pace with rival large consumer groups as its products – such as bottled water, baby formula and yoghurt – remained less in demand during the coronavirus crisis.
De Saint-Affrique said he was "proud and honoured" to join a company that had always been an inspiration to him.
"I have tremendous admiration for Danone's rich heritage and pioneering spirit in all fields: its strong and innovative portfolio of brands that have brought health through food to people around the world for so long; the dual social and economic project which has been at the heart of the company's purpose for decades; and its strong and unique people culture which respects both diversity and inclusivity," he added.
"I believe Danone has significant potential to continue to shape and contribute to how people eat and drink globally, and I am looking forward to, together with all Danoners, the executive committee and the board, writing our next chapter of growth and further progressing Danone's mission."
Danone chairman Gilles Schnepp, who took up his post following the removal of Faber from the joint role of CEO and chairman, said: "As a board we have delivered on our promise to search and find swiftly the best person to lead Danone through the next phase of our evolution.
"This marks a new chapter of leadership and a continuation of how we, as a board, have been transitioning governance at the company for a few weeks already.
"We unanimously agree that Antoine de Saint-Affrique is a standout leader in the consumer goods world. He has a distinguished track record of innovation and delivery.
"Importantly, he brings the right blend of strategic vision, international consumer goods experience, and operational execution skills to Danone."
Schnepp added de Saint-Affrique would have "all the room and resources a CEO can have to best assess and direct Danone's strategy for the future".
After a turbulent start to 2020, broker Barclays described Saint-Affrique's appointment as a "good fit".
"More than anything, Danone need a leader with charisma and a vision," it added. "We think he has both these qualities. The Faber legacy runs deep and it will require a lot of work to recalibrate the company's priorities and to unify the different factions."