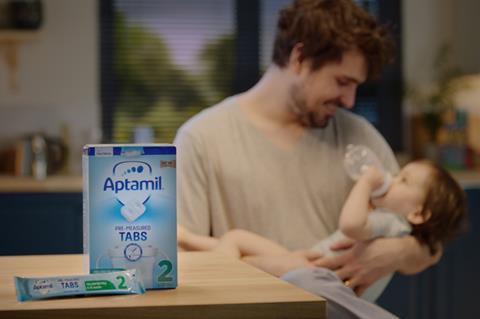 Danone has created what it claims is the first baby formula to be sold in pre-measured tab form for its Aptamil brand.
The tabs come in packs of 24 in sachets of five, with one tab equivalent to a standard scoop of powdered formula. To feed, they simply need to be dissolved in water.
Danone said the tabs would "help cut down on mess when preparing a formula feed, making the new format useful – in particular for night-time feeds" and allow for "more accurate measurement and less wasted formula".
Breast milk was "the gold standard when it comes to feeding babies", said Danone Specialised Nutrition GM for UK & Ireland Gustavo Hildenbrand.
"But if parents feel they need to move on from breast milk, they tell us they're looking for ways to make a formula milk feed simpler and more convenient."
The new format would "offer added convenience and support for formula feeding parents – especially in the 'new normal', when parents are often stretched and trying to juggle balancing family and work-life from home", he added.
They will roll out exclusively into Boots, followed by a wider rollout in Europe in 2022.
It comes on the back of a poor year of sales in the mults for Aptamil: the brand saw 4.4% (£7.6m) of its value wiped away in 2020, on volumes down 13.6% [Nielsen 52 w/e 5 September 2020].
However it wasn't alone in its woes. The babymilk category as a whole haemorrhaged £30.1m in sales over the period, on volumes down 15.9% [Nielsen].