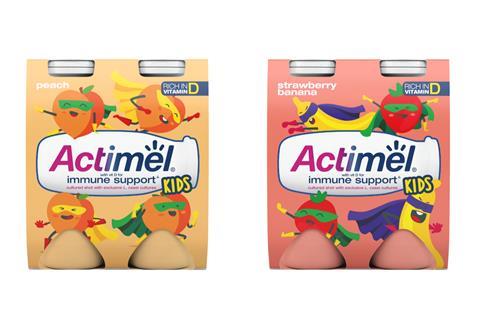 Danone has launched a new Actimel Kids range designed to tap into health trends brought on by the Covid-19 pandemic.
Coming in two variants – Strawberry Banana and Peach – adorned with fruits in superhero costumes, each shot of the NPD was said by the dairy giant to contain Actimel's "exclusive" L.casei cultures and vitamins B6 and D.
It said the launch had been prompted by market research that found health continued to be a priority for consumers.
Danone pointed to Google Trends data that showed searches around immunity were three times higher as of July 2021 than they were before the pandemic in July 2019. It also highlighted a Lightspeed and Mintel survey of more than 1,000 parents that found 62% had sought out products for their kids that contained vitamins and minerals.
Both products went on sale in Tesco and Morrisons this week, while Sainsbury's has solely listed the Strawberry Banana variant (rsp: £1.50/four-pack).
"We're so excited to bring our expertise in immune support to our fun new Actimel Kids range to support the normal function of the immune systems of little ones across the UK & Ireland," said Sarah Dossett, Danone Essential Dairy & Plant-based UK & Ireland marketing director.
"At the breakfast table or as a snack, our delicious and practical Actimel shots are packed with our exclusive L.casei cultures and a third of the daily reference intake of vitamin D to help kids take on whatever their day throws at them, every day."
The launch is set to be supported by TV, digital, in-store and sampling activity from this month, with Danone targeting the launch at the "peak back-to-school time".
The launch comes ahead of Barry Callebaut boss Antoine de Saint-Affrique taking the helm of the French dairy giant in September following the ousting of previous CEO Emmanuel Faber.