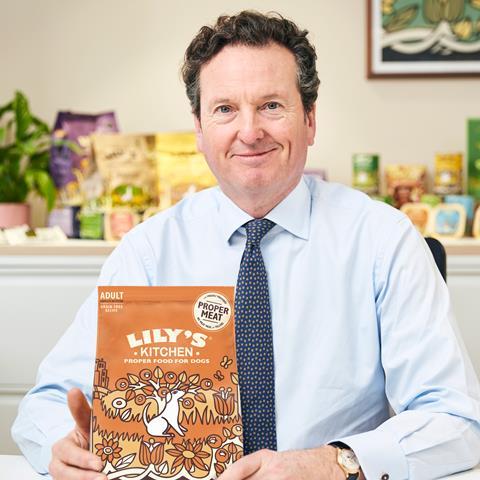 Lily's Kitchen CEO David Milner has left the premium petfood brand just more than a year after a takeover by Nestlé Purina, The Grocer can reveal.
Milner left the business at the end of June after deciding to step down from the business to focus on new opportunities.
Lily's CFO Tom Sirett is currently leading the company as interim CEO with a successor for Milner to be announced "shortly", according to a spokeswoman for the petfood maker.
Milner took the helm at Lily's in 2018 as founder Henrietta Morrison vacated the role for a wider chairman and global brand director position. Morrison first brought Milner into the business in 2014 as a non-executive director.
He helped rapidly accelerate growth at the business as he widened distribution in supermarkets, started dealing with Amazon, expanded internationally and ramped up the DTC side of the business.
Revenues at Lily's stood at £40m at the end March 2020 – an increase of 29% on the prior year – with retail sales worth about £85m as the business and PE owner L Catterton struck a deal thought to be worth more than £100m with petfood giant Nestlé Purina in April last year.
Nestlé has kept Lily's at arm's length since the takeover, with Milner continuing to run the brand as a standalone business.
Retail sales leapt to £125m under Nestlé's ownership and the company had grown by almost 30% in the current financial year, a Lily's spokeswoman told The Grocer.
"We're growing in every channel of our business, in every product segment, and operating in more than 30 countries," the spokeswoman added. "Our team is growing, with 10 new starters in the last year, bringing us to a total staff of 67.
"The board [of Lily's] thanks David for his outstanding leadership and building an exceptional team that has delivered tremendous business growth since he took the helm."
Milner said: "I have thoroughly enjoyed my time as both non-executive director and more recently leading the business as CEO. I am extremely proud of the whole team's efforts that have led us to be such a successful fast-growing business, making a real difference to pets' lives through proper food.
"I look forward to following Lily's Kitchen's continued success in the future."
Milner continues to be involved in the food industry, where he is currently chairman of bakery group St Pierre and a backer and board member of fast-growing DTC vegan brand Allplants.
He has had a long career in fmcg, rising through the ranks at Procter & Gamble, Mars, Campbell's, Baxters and Kettle Chips before taking the top position at Tyrrells in 2010. Milner went on sell the posh crisps maker to US-based Amplify Snack Brands for £300m in 2016.
A Purina spokesman said: "We were sad to see David leave Lily's Kitchen and thanked him for his fantastic contribution and leadership of the team and business."