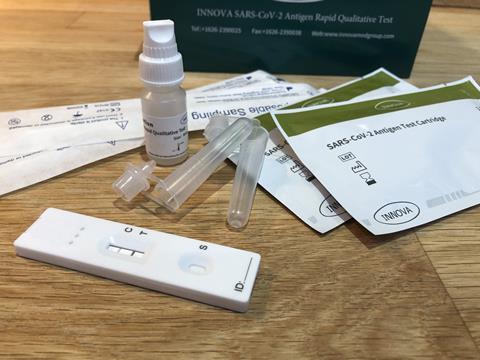 The government is to allow a "golden 500" list of food companies to let staff avoid self-isolating from the 'pingdemic' under a new network of Daily Contact Testing (DCT) sites at workplaces.
Defra said it had selected those operations seen as most crucial to keeping the food system up and running, with some of the biggest supermarket distribution centres beginning testing "as early as today".
In the next few days, more than 200,000 lateral flow tests will arrive at companies selected across key manufacturing, food processing and wholesale businesses. NHS Test and Trace bosses are today briefing companies on the avalanche of paperwork and legal procedures they will need to commit to in order to set up the DCT system.
The system will mean staff "pinged" by NHS Test and Trace will no longer have to self-isolate at home, if they agree to submit to a to a seven-day series of tests.
The presentation stressed that the system was "voluntary" for staff.
However, the government's moves have sparked a a furious row over the process used to decide the 500 companies on the list. While some welcomed the move as a sign ministers were finally getting to grip with the crisis, others accused them of a "total lack of transparency" and warned some areas of the industry risked being ignored and could even be forced to shut down.
Meanwhile, while many of the companies involved have already been involved in the government's asymptomatic test programmes, some are starting from scratch and will face a huge logistical exercise to get the testing systems up and running.
NHS Test and Trace today warned companies that failed to follow the right procedures could be kicked off the scheme.
Read more:
In a letter sent to participating companies yesterday, Defra said it had taken a "risk-based approach to identify those businesses to prioritise for testing to ensure food supply chains across England hold up".
"Tomorrow you can expect the NHS Test & Trace team to give you access to an online platform, which holds the legal declaration, clinical standard operating procedures and guidance documents to enable you to mobilise daily contact testing," it told companies.
Defra said its "ambition" was for the DCT alternative to be rolled out more widely "over the coming weeks". It added it recognised that some would not think it went far enough to protect their supply chain.
Self-isolation for those being 'pinged' is still officially supposed to end on 16 August, though there has been widespread speculation it will inevitably be pushed back.
Defra told The Grocer the start date for testing would "vary from business to business depending on what infrastructure already exists to facilitate on-site testing".
"Those sites that have workplace testing facilities already in place – including several of the critical supermarket delivery centres – can begin daily testing extremely quickly," said a spokesman.
It has also asked companies it has invited to take part to let it know if they are not interested so others can fill their place.
The latest moves were welcomed by James Bielby, CEO of the FWD, despite the organisation being among industry leaders slamming the response as "chaotic" and "too late", in a report in The Observer yesterday.
Bielby said the government had now agreed to roll the scheme out much more widely than as first promised last week, including to wholesalers.
"It's a really good move and it's great the government have rolled it out to a wider cohort of businesses than was initially reported," he said.
"Those business who are part of the first wave have been contacted and will be up and running this week so we're going in the right direction."
However, Andrew Kuyk, director general of the PTF, said he was "extremely concerned" at the "lack of transparency" surrounding the scheme, and said it was wrong for Defra to be so "secretive" over the list of those included.
"I have spent the weekend trying to get more information and being stonewalled by Defra," said another supplier source.
"Defra is refusing to say who is on this list yet is has huge implications for companies facing this crisis and has the potential to be extremely discriminatory.
"This decision could make the difference between being viable and non-viable.
"It's fine if you are a big company like a Tesco or a Nestlé but what about the thousands of smaller companies not included?"
British Frozen Food Federation CEO Richard Harrow also expressed concerns.
"We found out yesterday that Defra were going to contact a 'golden 500' list of companies and at the moment we don't know who is on that list as they are refusing to tell us on competition grounds.
The initial concern is just who is on this 500 and I would prefer it to be a much more open process.
"There is still la great deal of confusion about how it will work and how you get on the list – that's even before the many questions about how the new tests will work.
Harrow said many other companies had told him they had already taken matters into their own hands with the 'pingdemic'.
"The response from one of the companies I spoke to was 'OK, that means we can just carry on what we've been doing anyway, only now we've got the government's blessing'.
FDF CEO Ian Wright said: "The last few days of uncertainty have been a period of great disruption for the food and drink supply chain.
"It is clear that the government has listened to industry's concerns and the recent announcement of exemptions from isolation, which includes food and drink manufacturers.
"The devil is in the detail so we will continue to look into the guidance to further understand how the scheme will work."
Defra stressed the DCT system was separate to another scheme allowing companies to offer a reasonable excuse for named individuals who are close contacts of positive cases to leave self-isolation for the purpose of undertaking critical work where their absence would result in serious disruption to critical services.
It said this would "only apply to a very narrow cohort of critical workers".