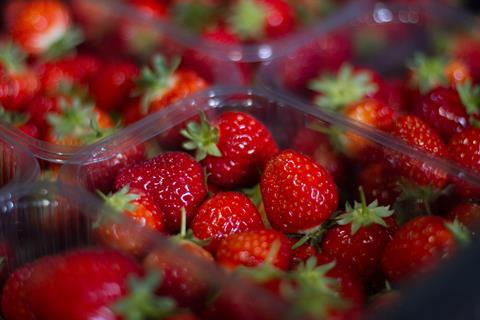 Recent cold weather has delayed the start of the British strawberry harvest but is expected to lead to bigger fruit than usual, British Summer Fruits has said.
According to the trade body, 2021's chilly winter and spring – which included the frostiest April on record – have led the crop to grow at a slower pace.
However, the conditions have also helped plants to flower and ripen more gradually, BSF said, changing the fruit's size and texture.
British-grown ­strawberries are now beginning to roll into retailers with BSF supporting the launch through online activity, including new recipe content on its Love Fresh Berries website, it added.
"This year strawberries have developed a little more slowly than usual. The recent cooler weather is resulting in tasty but also larger and juicier British strawberries than previous years," said BSF chairman Nick Marston at the season's launch on Tuesday (18 May).
Growers will behoping for another positive year of sales after shoppers spent £772m on strawberries over the last 12 months – an increase of more than 10% year-on-year [Kantar 52 w/e 21 March 2021].
Around 70% of the 147,000 tonnes of strawberries that were purchased during this period were produced by British growers.
Marston added that the British season was also now being extended thanks to "continuously advancing growing techniques", such as large-scale glasshouse production.
One such development – Dyson Farming's 15-acre glasshouse in Lincolnshire, which is powered using electricity and heat generated by an anaerobic digestor – began supplying retailers with strawberries in March.