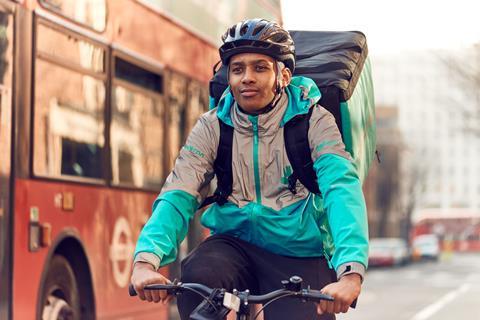 Deliveroo has claimed "hundreds" of its riders are set to receive a £10,000 bonus if its IPO goes ahead.
More than half of those riders due to receive the highest band bonus for their service are located in the UK, Deliveroo added.
However, riders have expressed anger over how few of them will be in line for the top reward, given their service to the company now valued at £7bn.
The company revealed plans at the weekend to establish a £16m 'thank you fund' to those riders who have "delivered the most orders", on the proviso Deliveroo goes ahead with its IPO.
Deliveroo said there would be payments of £10,000, £1,000, £500 and £200, dependent on time served and number of orders delivered. All riders who have worked with Deliveroo for at least one year and completed 2,000 orders stand to receive £200.
However, for the majority of riders, the bumper bonuses are beyond reach. Many riders have been sharing their promised bonuses on online forums and WhatsApp groups, showing that they had been offered the £1,000 bonus for delivering more orders than 98% of other riders. The £500 bonuses are only being given to those in the 90th percentile and above.
"£500 for being in the top 10%… absolute joke" wrote one.
Another said that given the requirements "basically nobody" will get the highest bonuses.
The awarding of the bonuses was also based on the times and days riders chose to work and the performance of other riders in their area, Deliveroo said.
Some have reported riding with the company for five years, clocking up more than 5,000 deliveries but only being offered £200.
Read more:
Deliveroo said some of those receiving the top band bonus "began riding with Deliveroo alongside CEO Will Shu soon after the company launched".
"I want to thank our riders who have been working with us for years, delivering great food and such a fantastic experience for our customers," Shu said. "They have been central to our growth and will continue to be. Some of these riders have been with us since the start and I'm delighted that they can share in the excitement of the company's next chapter."
Many riders online pointed out that often in IPOs employees were offered share options, but since Deliveroo insists riders are not workers, they haven't been.
"This cash reward is not an offer of securities in any jurisdiction," communications from Deliveroo to riders noted, adding "Deliveroo has and shall retain absolute discretion over all matters relating to eligibility for, and calculation and payment of, any cash rewards."
The Independent Workers' Union of Great Britain – which represents many Deliveroo riders – dismissed the bonus scheme as a PR stunt.
"It's trying to divert attention away from a workforce that has been exploited since the company's inception. If a lucky few riders do get £10k that's still 0.000001% of Deliveroo's valuation," said IWGB president Alex Marshall, who spent eight years as a gig economy courier. "Most will see less than £400. This does not come close to compensating riders for a lifetime of precarity and poverty pay.
"They should call it their apology fund. If they wanted to thank these key workers, how about they guarantee minimum wage, a fair terminations process and basic workers rights?"