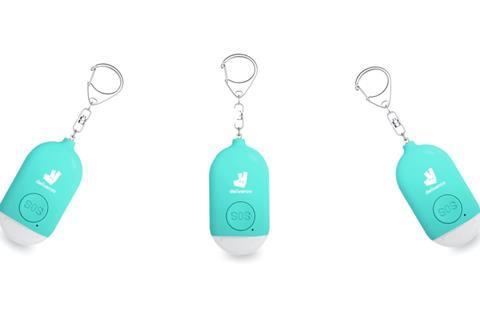 Deliveroo is offering riders free personal alarms to deter thieves and alert passers-by if they need help.
The keyring safety alarms feature a press button marked 'SOS' and "let off a loud, high-pitched noise and emit a bright flashing light" when activated.
Deliveroo informed riders of the availability of the alarms this week, telling them: "You should never feel unsafe when you work.
"We take reports about safety extremely seriously and do everything we can to protect you," it added.
There have been several reported incidents of attacks on food delivery riders. In January last year, Deliveroo and Uber Eats worker Takieddine Boudhane was stabbed to death, following an altercation with a van driver. Reports of the abuse, attacks and murders of food couriers are now "frequent" a Police Federation report in November found.
"The intense pressure to complete jobs quickly, to use working hours efficiently to maximise earnings, the competition between couriers and the long hours in return for demand-based, irregular earnings, contributes to a culture of profit over safety," the report noted.
"Couriers feel they have no choice but to go to significant lengths to protect themselves, including by securing their moped, avoiding particular locations when possible and (in some instances) carrying weapons," it added.
Deliveroo's communication regarding the alarms came with steps for riders to take if they are targeted by criminals while working. They have been advised to call the police, "move out of any immediate danger", and to "share your concerns and help us take action". They have also been told not to accept orders "if you do not feel safe delivering to a certain area".
The Police Federation added that couriers "lack confidence" in both the police and the platforms they work for to protect them.
Riders on a Reddit Deliveroo forum reacted with cynicism about the effectiveness of the alarms.
"I am in a dodgy area and I press the alarm – what's supposed to happen? The criminals will run away because your key ring's making a noise? Or maybe you just will attract more criminals?" one wrote.
"It will alert all criminals in a 100m radius and they will then have a mini Battle Royale to see who gets to keep your bike," another joked.