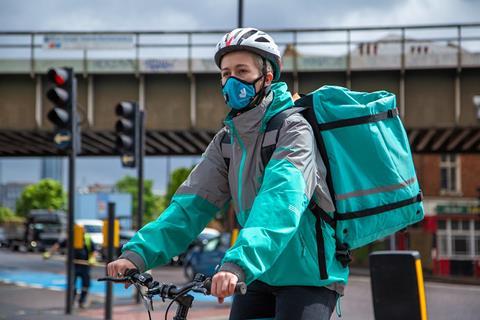 Many Deliveroo riders failed to receive their promised IPO bonus yesterday, following a major payments issue at the newly floated courier business.
Top-performing riders had been told they would receive a bonus payment of between £200 and £10,000 yesterday from Deliveroo's 'Thank You Fund', following the company's stock exchange debut last month. But many on Tuesday were surprised to see far higher amounts than expected in their in-app accounts.
It is understood some riders were able to cash out their boosted bonus amount before action was taken. In response, Deliveroo is understood to have stopped all riders, including those not in line for a bonus, from being able to transfer their earnings into their own bank accounts.
In many cases bonus-receiving riders were awarded double what they had expected. One unverified video of a rider's phone screen, seen by The Grocer, shows a £40,000 bonus payment in their in-app account.
"A technical error has meant that a small number of riders were offered a higher payment than was intended," a Deliveroo spokeswoman told The Grocer.
"All riders eligible for the Thank You Fund will receive the amount they were intended to receive, which we are delighted to give," they added.
Read more:
Some riders this morning have reported being able to now cash-out their regular weekly earnings, but not their promised bonus payment. Others have been able to cash out the full corrected amount after receiving an 'overpayment debit' on their account.
Riders have shared their frustration at the error, and lack of communication from the company, in rider WhatsApp and Facebook groups.
"What the hell happened Deliveroo?" one rider posted. Another said: "The fact is most riders haven't even been paid their actual weekly earnings, let alone the bonus".
The bonus fund for thousands of riders was established "to recognise the central role that riders have played in the company's success" and was dependent on the company floating. "They have been central to our growth and will continue to be," Deliveroo CEO Will Shu said at the time.
But the fumbling of the gesture has left many riders angry.
"They have failed," one rider said. "Nobody from Deliveroo has justified the supposed mistake because we are not important to this company."
This morning, Deliveroo has communicated to riders apologising for the delay in payments. "We are currently experiencing a technical issue which affected our ability to pay you as normal yesterday," the company told riders. "You should be paid in full today, as soon as possible," the message notes, adding that those eligible for a bonus will receive the amount previously communicated to them "in full".
The spokeswoman continued: "We have apologised to riders for this confusion. The £16m Rider Thank You Fund will be paid in full as a sign of our appreciation of their contribution to the company."