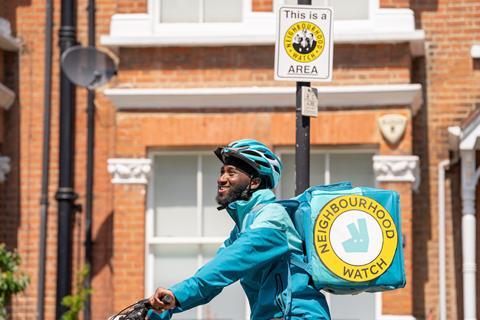 Deliveroo is offering training to its riders so they can spot domestic abuse, drug dealing and human trafficking, in partnership with Neighbourhood Watch.
The food courier platform will offer riders free Metropolitan Police-verified online courses covering a range of areas including how to handle confrontation and spot street harassment.
"Riders are in a unique position as we're out riding on the street and may see things others don't," said rider Alexandra Ramosova.
"We have the ability to help but sometimes aren't sure how best to do so," she added. "This training will allow us to better support our community and one another. Training like this gives people the confidence to make a difference."
The partnership was prompted by a rider who became a Neighbourhood Watch co-ordinator earlier in the year and wanted to share his experience.
The launch comes in Neighbourhood Watch Week, during which Deliveroo will deliver free meals to area leads of the volunteer organisation.
Riders completing the training will be given Neighbourhood Watch branded delivery bags.
"We don't just want to be seen in our communities, we want to be part of them," said Deliveroo CEO Will Shu. "Riders have carried out a vital role during the pandemic and are well-placed to build on this experience to spot any concerns in the neighbourhoods in which they work and live."
The partnership follows a similar one with the NSPCC last year, where Deliveroo riders were trained to spot and report the signs of child abuse.
The programme saw a huge amount of interest, with over 7,000 riders completing the training.
"Both Neighbourhood Watch volunteers and Deliveroo riders have played vital roles during the pandemic, and we look forward to working together to help keep communities safe," said John Hayward-Cripps, CEO of Neighbourhood Watch.