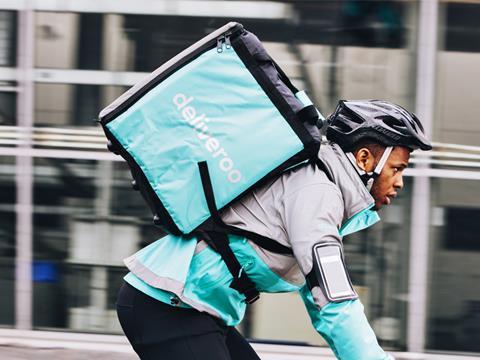 Shares at Deliveroo have made a strong recovery today after German rival Delivery Hero grabbed a slice of the London-listed food delivery service.
Stock exchange filings revealed Delivery Hero had built a 5.1% stake in Deliveroo, sending the share price to the highest point since the £7.6bn IPO back in March.
Delivery Hero CEO Niklas Oestberg revealed the firm began buying shares in Deliveroo in April and said he felt the company was "undervalued".
"I know [Deliveroo founder] Will Shu for many years and I'm holding a huge respect for what he and his team have built," he said in a series of tweets on Twitter.
Deliveroo shares ended the day 4.5% higher at 339.8p, but had jumped as much a 10% during trading today, hitting a peak of 358.3p. It is the highest shares have been since the disastrous IPO, which saw the stock plunge by more than a quarter on its debut. The group floated at 390p a share – bringing a valuation of £7.6bn (far below the £9bn trumpeted ahead of the IPO) – before crashing more than 30%.
Shares hit a low of 228p in May but have made a steady recovery since as customer demand proved more resilient after lockdown eased than investors feared.
Deliveroo will report its first-half results on Wednesday morning.
AJ Bell financial analyst Danni Hewson, questioned whether the move by Delivery Hero was the first step in "a well-orchestrated take over campaign". "Investors might be hoping so, but they'll also be considering Wednesday's results which should show revenue growth, though the business will have to answer questions about projected sales now hospitality has firmly reopened for business."
Shares in Delivery Hero, which operates in more than 40 countries, not including the UK thanks to the sale of Hungry House to Just Eat in 2016, fell 3.2% to €126.95 in Frankfurt today.