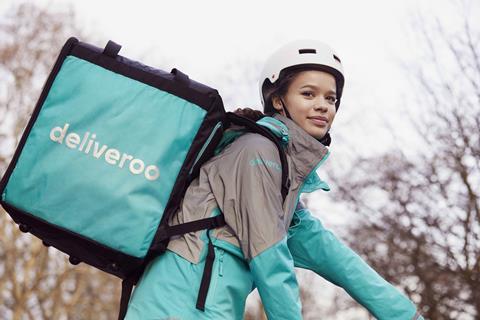 Deliveroo is to trial facial recognition technology to ensure those using a courier's account are approved to do so.
Riders have interpreted the move as the platform clamping down on the selling and renting of accounts.
Through May some riders will be asked to upload a selfie, they were warned this week. Once submitted it is understood Deliveroo will ask riders to take a photo of themselves at random times when they are using the app, for cross-checking.
The small trial – which is currently in its early stages – is "designed to ensure every rider who works with Deliveroo, including substitutes, meets all the requirements to do so".
Couriers are permitted to appoint a substitute to deliver on their behalf using their account. However, it is the rider's responsibility to make sure they follow the supplier agreement, and arrange payment. It is also the account holder's responsibility to ensure substitutes have no unspent criminal convictions, and Deliveroo offers reimbursement of half the cost of a criminal background check to help them do so. Substitutes must also have up-to-date right to work documents and a valid licence with insurance for their vehicle.
However, it is understood some riders rent out their accounts without running such checks. A Sunday Times investigation in 2019 found Deliveroo and Uber Eats riders were selling the use of their accounts to illegal migrants.
As part of the perceived clampdown on such activity, Deliveroo this week told riders they would not be able to amend their bank details – where earnings are paid – in the app, and must instead go through a separate verification process.
Rider vlogger 'Who's Your Boss?', in a YouTube video, said he suspected the move would "cause a very big problem for people who buy accounts because it means they're going to have to trust that person to pay them every week… It's not logistically feasible to keep that up".
"It's a step in the right direction to make Deliveroo a bit more above board, because it can get a bit shady at times," he added.
Riders have broadly supported the action. One posted in a Facebook rider group: "90% of Deliveroo drivers gone from that day. The end of renting accounts, finally."
In April last year, Uber rolled out real-time ID checks for all its ride-hailing and Uber Eats riders across the UK. Some Uber riders have reported having their accounts frozen because their images weren't seen as a match by the facial recognition technology.