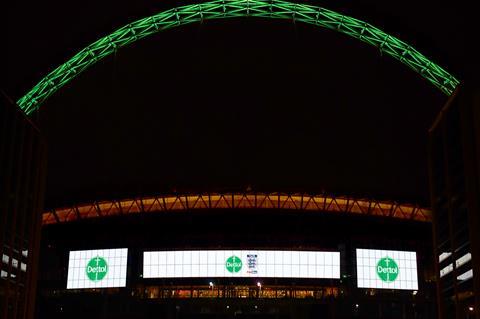 Dettol has partnered with the Football Association to reinforce best hygiene practice among participants and supporters.
The hygiene brand will work with the FA to provide hygiene guidance that can be "easily implemented" at every level, it said, from "grassroot to elite".
The tie-up will see the brand become the Official Hygiene Partner for the England men's and women's senior teams, Wembley Stadium and St George's Park.
It will provide access to educational materials for over 17,000 grassroots clubs and the 1.4 million players participating in affiliated football, as well as providing a range of Dettol products.
It will also work with Wembley Stadium to explore new cleaning protocols using Dettol products to support the return of fans at the venue, and will implement similar practice at the FA's training facility at St George's Park.
Reckitt Benckiser's regional general manager for Northern Europe, UK & Ireland, Susan Egstrand, said the goal was "to provide the football community with simple and effective hygiene routines when they enjoy the game they love".
The FA's commercial and marketing director Kathryn Swarbrick added it was "more important than ever to ensure football has all the necessary measures in place to protect participants and supporters".
The partnership would give the FA "added reassurance" as it looked ahead to the complete return of the sport, added Swarbrick.