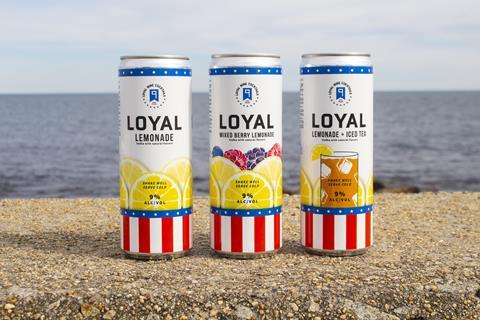 Diageo has increased its exposure to the rapidly growing ready-to-drink category with the acquisition of Loyal 9 Cocktails in the US.
Launched in 2018 in Rhode Island, Loyal 9's vodka-based RTD canned cocktails are produced with 100% real fruit and use a lemonade base.
RTD is the fastest-growing category in total beverage alcohol in the US, worth more than US$7.8bn in 2019. Growth was fuelled further last year during the coronavirus pandemic as consumers turned to more convenient formats to drink at home.
Diageo's spirits-based RTD portfolio already includes recently launched innovations such as Crown Royal cocktails, Tanqueray crafted gin cocktails and Ketel One botanical vodka spritz.
The drinks giant also announced an $80m investment last month in expanding its RTD manufacturing footprint with a new factory in Illinois.
Diageo North America president Debra Crew said Loyal 9 hit an RTD "sweet spot" for American consumers.
"We have a clear strategy to build and diversify our RTD offerings across price points and consumer segments, and Loyal 9 is a great addition to our portfolio."
The deal follows the acquisition of Texas-based hard seltzer brand Lone River Ranch Water in March.
Edward Mundy, an equity analyst at Jefferies, said Loyal 9's impact on Diageo would be small but still contributed to growth.
"We see a US portfolio today that is healthier and growthier vs history and small bolt-on deals, such as Loyal 9, will complement the growth strategy," he added.