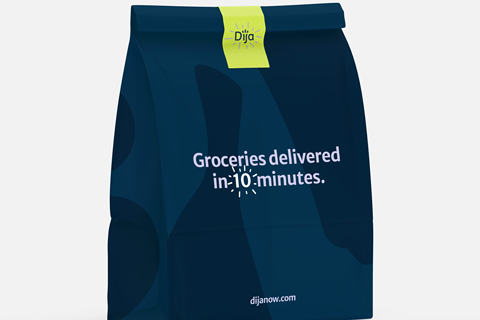 Ultra-fast grocery service Dija has acquired Cambridge-based 15-minute drink and snack delivery startup Genie to "support the company's expansion across the UK".
Dija was established last year by former Deliveroo executives Alberto Menolascina and Yusuf Saban and launched in London earlier this month, delivering grcoeries from four warehouse hubs in South Kensington, Fulham, Islington and Hackney.
Genie launched last year delivering snacks, drinks and everyday essentials in 15 minutes or fewer with late-night opening hours, again from dedicated 'dark stores'.
As part of the acquisition, Genie founders Tim Chan and Callum MacBeth will join the Dija team to support growth outside London.
"The grocery delivery space is going through its biggest shakeup in decades," said Menolascina. "Our ultra-fast delivery service is changing the way people shop, helping to free up customer time and ensure they can get what they want when they want it. But our ambitions aren't limited to inside the M25."
Dija plans to operate a further 20 hubs across the capital, with a potential customer base of more than three million people, by summer.
However, its plans "to transform the way customers shop are not just limited to London" it said. A rollout "across the UK and Europe" is expected by the end of the year.
Dija said up to 40% of daily orders were being placed by returning customers and its service had an average customer satisfaction rating of 95%.
"We're excited to join forces with the team at Dija and continue our shared mission to bring everyday items to your door in a matter of minutes," said Chan.
"For our existing customer base this deal means access to more products, better prices and even faster delivery times. We've had a tremendous response in Cambridge so far, and look forward to bringing Dija to many more regions across the UK in the coming months."
Recent months have seen a slew of ultra-fast, sub 15-minute grocery delivery services establish themselves in the UK, primarily in London, including Getir, Gorillas, Dija, Weezy, Zapp, and Fancy.
Still more are coming. Startup Jiffy has raised £2.6m in seed funding to back its UK launch, which is coming to London later this month.