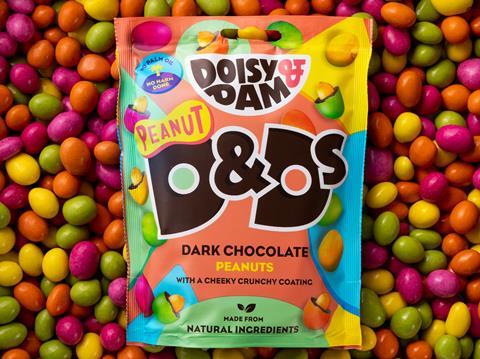 Confectionery challenger brand Doisy & Dam has appointed fmcg veteran Mike Hedges as chairman ahead of a £300,000 crowdfunding push.
The business, founded by Ed Smith and Richard Wilkinson in 2013, raised almost £200,000 from more than 290 investors in the first 48 hours of the Crowdcube campaign launching this week.
The fundraising will value Doisy & Dam at £6.1m if it hits the £300,000 target, with the money being used to "supercharge growth" by expanding the product range, investing in marketing and expanding exports.
Hedges, who stepped down as CEO at snack maker Proper earlier this year following a sale to PE firm Exponent, has been given an option to invest in the chocolate brand at a later date after joining as chairman this month.
He has 30 years' experience in the fmcg industry, also spending two years as MD at crisps supplier Tyrrells.
"Mike's decision to join us at D&D is a huge vote of confidence in our concept and strategy, and with him on board we've got an expert set of hands to help guide us through the next few years of growth.," Smith said.
Doisy & Dam's range of vegan and palm-oil free dark chocolate – made using ethically sourced cocoa – is available nationwide in Sainsbury's, Ocado, Amazon, Holland & Barrett and Boots.
In May, the brand ramped up its challenge to M&M's with its own take on roasted peanuts encased by dark chocolate and covered in crisp, colourful sugar shells.
The latest NPD followed a number of healthier alternatives to classic chocolate treats such as Maltesers, Buttons and M&M's launched in 2020.
Sales at the business surpassed £1m in the last year as consumers continued to seek healthier ways of snacking.
The new Crowdcube campaign is the second time the brand has turned to the crowd, following an oversubscribed £300,000 round in 2016. The business also secured a £750,000 cash injection from angel investors to underpin rapid growth plans in 2019.
Existing investors, including Bulldog Skincare co-founder Simon Duffy, contributed close to £120,000 in the current crowd round.
"We're coming back to the crowd to supercharge our growth," Smith added.
"We've got lots of exciting things coming up this year, and the investment from crowdfunding is going to unlock our ability to ramp up marketing, export growth and create some fantastic new products."