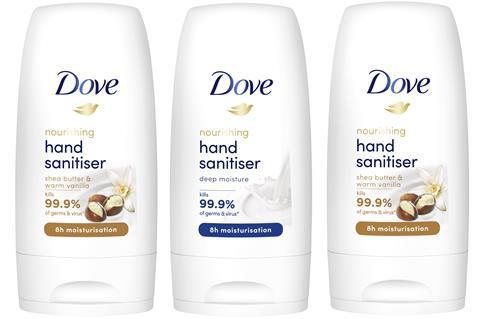 Dove is entering the hand sanitiser market with a new moisturising formula.
It marks the Unilever-owned brand's debut in hand sanitisers, and came as cleanliness remained "top of the agenda", it said.
The sanitisers have rolled out in two varieties – Dove Deep Moisture Hand Sanitiser and Dove Shea Butter Hand Sanitiser – at Boots, Wilko, Morrisons and Tesco (rsp: £2.50/50ml).
The moisturising sanitisers are claimed to be clinically proven to be 99.9% effective against germs and enveloped viruses, as well as moisturising the skin for up to eight hours.
They contain an alcohol-based sanitising formula and Dove's caring moisturising formulation to keep skin "soft and cared for", said the brand.
Unilever UK&I marketing director for deodorant, skin cleansing and gifting Monique Rossi said that core ingredients of sanitisers and their alcohol-based formulas had left many people with dry, sore and irritable skin. This, she said, could be a deterrent to sanitising.
With this new "two in one solution", Dove wanted to give shoppers the "confidence" to sanitise regularly, with the knowledge that their skin was protected during the process.