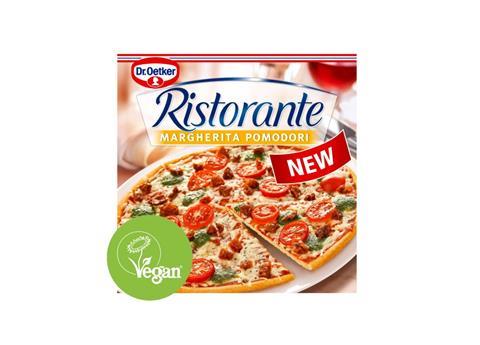 Dr Oetker Ristorante is hoping to challenge Goodfella's in the freezer aisles with the launch of its first vegan pizza in the UK.
Called Margherita Pomodori (rsp: £3.69/340g), the NPD has an Italian-inspired "fresh pizzeria taste" and a fully plant-based recipe, said the brand.
It is topped with tomato sauce, grated vegan cheese, sun-dried and cherry tomatoes and a pesto-style garnish.
The pizza was billed as having the "perfect balance of tasty topping and crispy crust", and was taste-tested by a panel of vegan and flexitarian consumers to ensure "deliciously satisfying" results, the brand added.
It has rolled out at Tesco and Asda stores nationwide.
Dr Oetker senior brand manager Josephine Skinner said despite seeing more vegan pizzas on the market, there were still "few inspiring Italian-style" options available in UK freezer aisles.
The NPD would "give those opting for a plant-based diet the real taste experience of a brand they know and love", she added.
IRI data revealed that 42% more vegan frozen pizzas had been bought last year compared to the previous period, said Dr Oetker [52 w/e 27 March 2021].
In January, Dr Oetker-owned brand Chicago Town added a duo of indulgent vegan pizzas topped with meat alternatives to its product line.
It said its Vegan Deep Dish Cheeezeburger and Vegan Tomato Stuffed Crust Takeaway Smokey Bac'n and Mushroom pizzas were "aimed at plant-based eaters and those looking for a meaty feast".
Last April, Goodfella's launched its Meatless Mediterranean pizza topped with Mediterranean vegetables and plant-based mince made from pea protein.