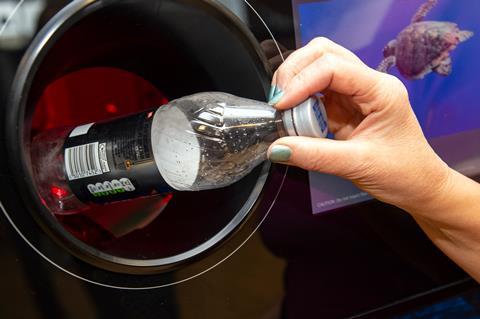 A coalition of the UK's major drinks suppliers and supermarkets is just weeks away from launching a new management company aiming to run a multibillion-pound bottle deposit return scheme across the UK.
The Grocer understands there has been major progress in talks between suppliers, including the likes of Coca-Cola, AG Barr and Britvic, with supermarkets such as Asda and Tesco.
Negotiations have focused on the creation of an independent company to run DRS in Scotland, with talks having been delayed because of the coronavirus pandemic.
However, several sources told The Grocer an agreement that could see the admin body up and running by next month was now very close.
Crucially, it has also emerged that while Scotland planned to have its DRS system up and running by July next year, while England's plans had been set back until 2024, the talks were aimed at creating a company that would operate across the whole UK, creating one DRS system.
"This a big deal for the whole industry and the idea is very much that this becomes a UK-wide company," a source told The Grocer.
"We don't want to do this twice."
The new company, as administrator of DRS, would take responsibility for collecting packaging from return point operators, making payments of deposits and handling fees, and meeting collection targets for packaging.
Talks initially foundered because producers, who will be responsible for paying deposits on their products, wanted a lion's share of the controlling company. However, supermarkets wanted to have a greater say.
"The main disagreement was around voting rights and who got governance," said a source. "Suppliers wanted to have control over the company but supermarkets were understandably unhappy with this, especially given the huge investment they are likely to be making in DRS, including the installing of reverse vending machines in tens of thousands of stores.
"The eventual deal is likely to be much more like 50/50."
A supplier source confirmed: "There have been developments in negotiations. This will be an industry coalition taking up the cudgels of management as a scheme administrators."
A retail source told The Grocer it was hoping the company could be up and running within "four to six weeks" but warned that huge barriers still had to be crossed if a DRS scheme was to successfully get off the ground.
"We are still in the midst of a pandemic and the notion that we can get all the infrastructure in stores and encourage shoppers to come into stores for trials of reverse vending machines whilst this is the situation is a non-starter.
"Covid has to be beaten before DRS will properly get off the ground."