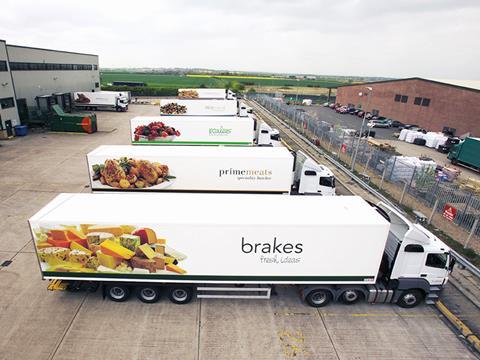 The driver shortage crisis has forced Brakes to axe supply to its customers and caused suppliers to call time on accepting new orders in a bid to clear the backlog.
The lack of HGV licenced drivers is continuing to cause chaos across the food and drink supply chain as wholesalers and suppliers attempt to meet high demand with depleted fleets.
National wholesaler Brakes has been forced to terminate the supply of goods with immediate effect to a raft of customers this week as a result.
In an email seen by The Grocer and sent to play centre café Hyperspace owner Mike Morrison in Paignton, Devon, Brakes wrote: "We are not able to offer you any delivery days from your depot until further notice. This action is highly regrettable, and we apologise unreservedly to you for the impact on your business."
Brakes cites a "combination of an acute labour shortage, particularly of HGV drivers" in the area as the reason, saying it is "impacting on our delivery capability and means demand has now far exceeded our delivery capacity in your area".
"Therefore we recommend that you find an alternative source in the short term," says the email, sent on 23 June.
Morrison, who had a 'single supplier' contract with Brakes, told The Grocer: "What Brakes are doing will literally kill a number of small businesses. This will force a load of business to close. The lack of warning is totally unethical and unprofessional and technically it is a breach of contract. I know there are logistics issues but this isn't how you treat your customers. How can I trust them again?"
Brakes has also increased its minimum spend from £60 to £250 in the past two weeks.
Meanwhile, a number of major suppliers are no longer able to meet demand either.
The Grocer has seen an email from Britvic sent to wholesalers that explained it issued a 'circuit break' on Monday this week to "allow us to catch up and clear outstanding orders". It also requested flexibility in receiving orders outside allotted timeframes and ordering full pallets at a time.
Danone also issued an email to its customers, seen by The Grocer. It said "We have had to cancel or rebook many orders for this week and next week. We are actively looking for additional hauliers options to improve the situation as soon as possible."
Suntory, formarly LRS, has also apologised to customers for disruption to service, and issued a blanket delay on lead time for all deliveries by a day.
Hain Daniels has requested wholesalers avoid placing orders for delivery on Mondays and Fridays.
"Like many other businesses in the supply chain, we've been impacted by the significant national shortfall of HGV drivers," said Brakes commercial director Paul Nieduszynski.
"In areas where we have a driver limitation for the current significant demand, we have let customers know that we have acted to remove some delivery slots. We don't like letting a single customer down, and we apologise to any of our customers impacted by this. We are working around the clock to ensure we can fulfil as many deliveries as we can."
So far the government has shunned calls from the logistics and food and drink industry to implement a number of measures in an effort to mitigate the fallout of the crisis. These have included increasing driver hours and adding EU and EEA HGV licencees to the Skills Shortage Occupation List.