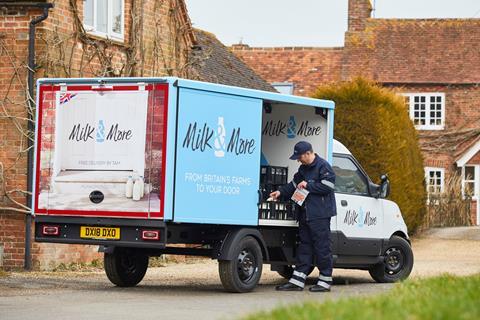 A combination of HGV driver shortages and the so-called 'pingdemic' is wreaking havoc with many fresh food direct-to-consumer businesses.
Müller's doorstep delivery service Milk & More and fruit & veg box companies Oddbox and Pale Green Dot have had their supply chains disrupted by the issues, which are hampering the UK's food suppliers and retailers.
At Milk & More, staff levels are understood to have been severely affected as close contacts of people who contracted Covid-19 were forced to self-isolate. It meant the company has struggled to make deliveries in some areas in recent weeks. One customer in London told The Grocer their two scheduled deliveries since last week had not arrived and they had not received any warning or acknowledgement.
After 40 minutes on the phone, they were told by a customer service agent to expect the issues to continue until the end of next week.
Dozens of similar stories could be found on ratings website Trustpilot and social media.
In response, a Müller spokesman said the service was experiencing "significant challenges" caused by Covid-19 and driver shortages but was still managing to make 95% of its deliveries.
"We recognise the inconvenience that this causes a small number of our customers. We have apologised to those affected and reassured them that we have plans in place to urgently resolve these temporary issues," he added.
Meanwhile, wonky produce delivery company Oddbox sent a note to customers last week warning there could be "more substitutions" in their boxes in the coming weeks as the lack of truck drivers had made it "harder for us to get fruit and veg from A to B".
In a post on its website, it described the previous two weeks as "increasingly tough" and said its logistics partners were being "forced to prioritise bigger customers, like supermarkets".
Even those that could still deliver were seeing "drivers burn out trying to keep up with extra work," the piece added.
Fellow DTC firm Pale Green Dot also warned customers of disruption and announced it would no longer make deliveries to London or its closest suburbs until further notice from next week.
However, not all fresh DTC firms have been impacted. One industry source told The Grocer that they had been able to adapt and had continued "with minimal adjustments to operations" thanks to their diverse supplier base.
Riverford had also avoided disruption by dint of it operating its own fleet of vehicles and the staff-retention benefit of its employee ownership structure.