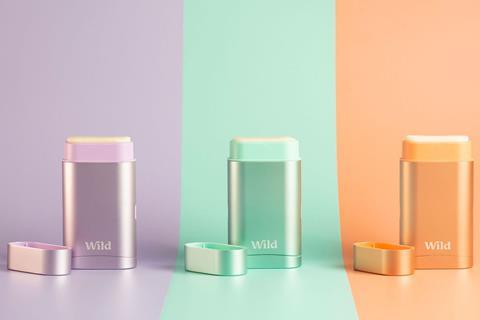 Personal care startup Wild has made its high street debut – almost two years after launching as a direct-to-consumer brand.
It has rolled its natural deodorant into 300 Sainsbury's stores as part of the retailer's Future Brands initiative.
Wild's refillable deodorant case is available in aqua, coral or purple in a 'starter pack' with three refills (rsp: £12). Single stick refills are also available in Coconut Dreams, Orange Zest, Fresh Cotton & Sea Salt, and Lavender Haze (rsp: £5).
"Sainsbury's provides the perfect platform to take Wild to the next level and to get us into more bathrooms," said the brand's co-founder Freddy Ward. Its aim was "to reach more people than ever before, and to continue our journey as the leading natural deodorant player in the UK".
Ward, a former marketing executive for HelloFresh, set up and self-funded Wild with marketing specialist Charlie Bowes-Lyon. The two launched the business in summer 2019, offering eight natural deodorant SKUs across stick and roll-on formats via DTC.
All Wild variants lack the parabens, aluminium and sulphates commonly found in deodorants and anti-perspirants. They do not prevent perspiration but instead react to the bacteria in sweat to neutralise body odour.
In early 2020, the startup raised £500k of seed capital to switch its plastic and glass packs to reusable aluminium, while focusing on stick deodorant only.
Over the past 12 months, Wild had reached 150k shoppers and sold 750k deodorants, it said.