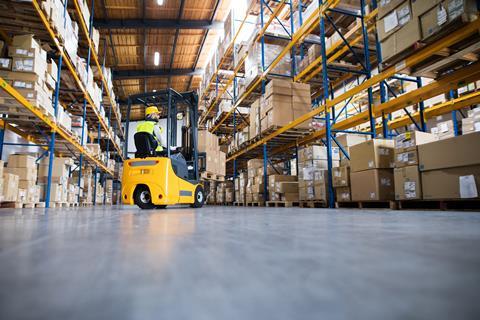 Logistics space under offer soared to record levels at the end of quarter one of this year, driven primarily by demand from pure online retail.
Some 16 million sq ft across 55 units was under offer, compared with 11.5 million sq ft across 23 units at the end of quarter one of 2020, according to data from real estate advisor CBRE, which tracks warehouses over 100,000 sq ft.
The amount of space subject to a completed deal was down year on year, at 5.2 million sq ft in the first quarter of 2021 compared with 6.4 million sq ft in quarter one of 2020. However, the number of individual deals completed had more than doubled year on year to 25, signalling a higher volume of transactions across smaller units.
The year-on-year surge in space under offer by the end of the quarter pointed to high onward demand, CBRE said.
Pure online retail accounted for the largest proportion of take-up at 48.2%, with some new players taking logistics space for the first time, reflecting the sector's response to changing shopping habits.
"Although total take-up was lower this quarter, the appetite for quality, well-located logistics sites has not halted and the record number of units under offer suggests there will be a strong quarter two ahead," said Jonathan Compton, CBRE senior director of UK industrial and logistics.