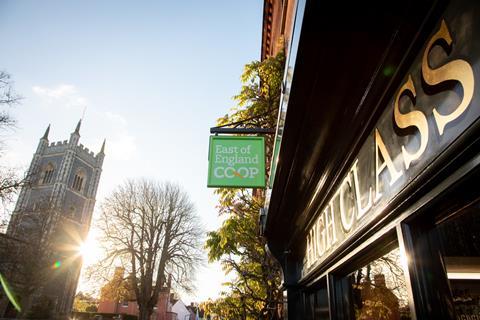 An almost 10% growth in food sales at East of England Co-op has offset a significant Covid-related decline in other areas of the business.
The society said total food sales increased by 9.5% to £306.9m in the year to 23 January.
Sales across its travel, petrol filling station and events businesses were down over 40%.
Covid restrictions also reduced the average price for funerals by 5.9%, resulting in a £0.5m reduction in sales, despite conducting six more funerals than last year.
It also incurred £1m in one-off costs relating to the pandemic, to keep colleagues and customers safe.
As a result, total sales at the society were up 4.2% to £349.6m.
In terms of food, East of England said customers visited stores less frequently but increased their spend per visit.
The society said the success of its food business during the pandemic prompted the boost in sales, as shoppers spent more and visited less. Trading profits increased 60.8% to £7.2m, boosted by the improved food performance.
The growth in food sales had helped to offset the "inevitable impact" of the pandemic on other areas of the business, it said.
"Unsurprisingly, given the impact of the pandemic, our funerals, H.L. Perfitt, petrol filling stations, travel and events business all saw profits fall," said East of England Co-op joint CEO Doug Field.
"With government restrictions significantly impacting both domestic and international travel, our travel sales were down nearly 90% and our petrol filling stations saw volumes down by over 20%.
"It's been a tough year, but the unshakeable dedication and commitment of our colleagues has been extraordinary. Without them we wouldn't be able to make the incredible, positive impact we have on the daily lives of our members, customers and communities.
"Given the dedication of our colleagues and the adaptability they have shown in the last year, together with our strong financial foundation, we have the resources we need to keep us ahead of the curve."