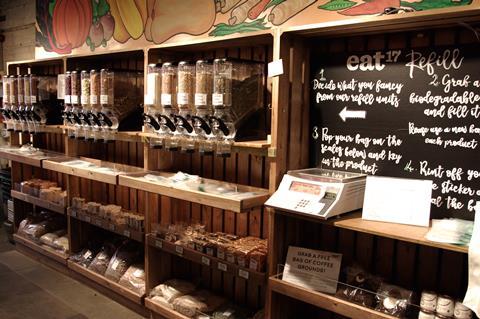 Eat17 has seen sales from its refillable stations rocket 20% in the past year as customers sought ways to reduce packaging waste.
The London retailer initially launched the stations in 2018 and has gone from offering dried pulses, cereals, pasta and rice to now also oils, vinegars, detergents and wine.
Bestsellers include nuts and seeds, herbs and spices plus oils, refillable wine, rice and cereal oats.
"Keeping the stores relevant to local consumers has always been a massive priority to us," said co-founder James Brundle.
"We source and stock local products. We have our own range of over 300 items with more being added all the time and, most importantly, listen to what our customers want.
"Refillables have always been high on that list and will be something that will evolve and grow over the coming years."
Eat17 is now calling on supermarkets to introduce refillable stations at more stores.
"What shocks us, factoring in the government's commitment to cutting plastic waste, is that the big supermarkets aren't following the lead," Brundle added.
"We're not suggesting stores ditch all packaging but what we'd like to see is changes being made. There are little changes – not pre-packaging fruit and veg, reusable fruit and veg bags rather than plastic bags and refillables for practical dried products.
"Feedback from our customers is that they're crying out for more of this and the more prevalent it becomes, then shoppers will give it a go and realise how easy and cost-effective it can be.
"Once the demand is there, then we'll see more stores seriously considering refillables as a viable route."
Major retailers to have trialled refillables so far include M&S, which in January launched an aisle stocking rice, pasta, cereals and nuts at its Hedge End Food Hall. It has since extended the trial to two more stores.
Asda has also offered customers an eco-friendly alternative with the opening of a new sustainability trial store in October. It includes 15 refill stations that offer more than 30 household staples sold in refillable format, such as Kellogg's cereals, PG Tips tea bags, Quaker Oats, Lavazza and Taylors of Harrogate coffee beans.
Meanwhile Waitrose has been offering refillables at a number of stores since last year in its 'Unpacked' trial.