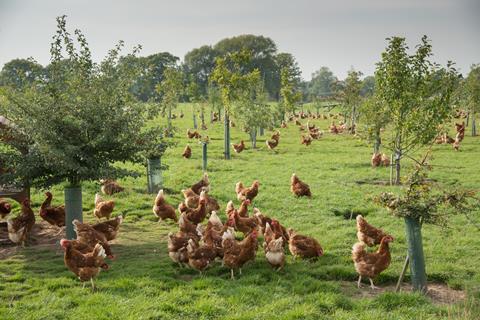 The egg and poultry sectors have welcomed the government's announcement that the bird flu compulsory housing order is set to end this month.
Chickens from all farming systems have had to remain indoors since mid-December following a spate of outbreaks of a highly pathogenic H5N8 strain of avian influenza caused by wild migratory birds.
But with the migration season drawing to a close and no new outbreaks in British poultry since 12 February, these measures are set to be relaxed from 31 March – provided there are no new cases in the interim.
The bird flu risk level has also been downgraded to 'medium' having been placed at the highest level by Defra in November. However, Great Britain's chief veterinary offices for each of the three nations urged continued vigilance for the disease.
"We have taken swift action to contain and eliminate this disease," the three officials said in a joint statement.
"All bird keepers – whether they have just a few birds or thousands – must continue to do their bit to maintain strict biosecurity measures on their premises so that we do not lose the progress we have made over the past few months, as low risk does not mean no risk."
The GB-wide bird flu prevention zone and its extra biosecurity measures would remain in place, Defra said.
Farming and trade groups described the announcement as a "relief".
"This has been a testing time for the poultry meat industry, and we welcome the lifting of the housing order that has come with the reduction of the risk level," said British Poultry Council CEO Richard Griffiths.
"The health of our birds remains the priority for our members up and down the country. I would like to urge all commercial and non-commercial producers to maintain effective biosecurity throughout the year to avoid any incursion of potential infection and minimise impact on international trade."
The NFU and British Free Range Egg Producers Association both echoed Griffiths' comments.
NFU chief poultry adviser, Aimee Mahony, added, "While the threat of avian influenza has decreased, it is still incredibly important everyone who keeps birds remains vigilant."
And BFREPA's CEO Robert Gooch said while the risk level had been lowered "the threat [of bird flu] still exists".
Free-range egg producers were badly hit by avian flu housing order restrictions during the last significant bird flu outbreak four years ago.
The news comes as a petition by animal welfare groups – including Animal Equality UK and The Humane League – alongside TV presenter Chris Packham renewed calls for the mults to sign up to the Better Chicken Commitment.
The petition, which had received close to 36,000 signatures at the time of writing, has urged the UK's leading supermarkets to meet the BCC's standards, such as the adoption of slower-growing breeds, increasing levels of light and play areas, giving birds more room to roam inside barns, and using more humane stunning methods.
Thus far, M&S and Waitrose are the only major supermarket chains to have signed up to the commitment, while Tesco and Morrisons have both launched lines of BCC-compliant poultry products.