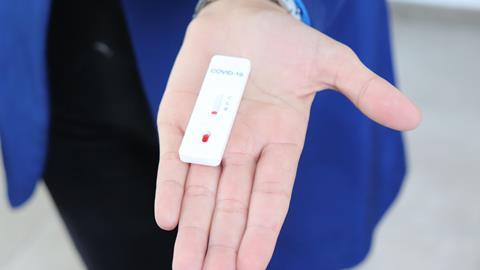 Food and drink industry leaders have called the government's move to end free workplace Covid testing from June an "outrage" and "short-sighted" and urged it to rethink its plans.
The criticism came from attendees during the last Food Resilience Industry Forum (FRIF) or 'war room', which took place this week, ending 13 months of regular crisis talks between industry and government in a bid to keep the nation fed during the pandemic.
From June, the government will no longer provide lateral flow testing kits to businesses, leaving them with the choice to purchase the tests or abandon the programme.
Tests purchased privately could cost businesses between £4 and £5 each. Twice-weekly testing could therefore could cost Tesco, with its 400,000-strong workforce, in the region of £4m a week.
"It is simply short-sighted of the government to be cutting off the provision of free workplace testing to coincide with the ending of restrictions," one FRIF attendee told The Grocer. "To do it all at the same time would be madness. It could put employees and customers at risk, it's an outrage."
The Grocer understands home testing kits will continue to be available free of charge beyond June.
Another attendee said: "I find it completely bizarre. Why should companies pay for testing of their staff when they are being given it free at home?
"This is bound to have a negative impact on testing. Surely the least government can do is to come back with an answer. The obvious question is what this would this mean for the workplace testing that Defra and others have been so keen to encourage among key workers in the food industry."
It comes as Tesco CEO Ken Murphy admitted last week it was struggling to provide a comprehensive Covid testing programme for its staff because of the scale of its workforce.
Defra was contacted for comment.