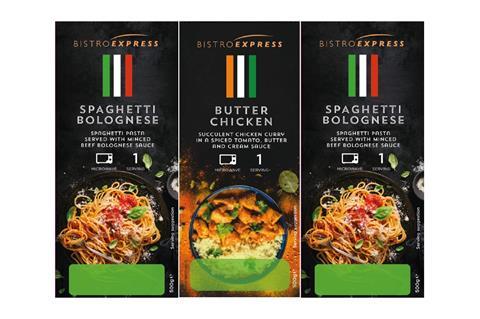 Ready meals supplier Enterprise Brands has created a new chilled range with a 16-day shelf life in a bid to combat wastage in the category.
The Wigan-based supplier has unveiled a duo of SKUs under its Bistro Express range – Spaghetti Bolognese and Butter Chicken – which have a guaranteed 16-day shelf life on delivery. It said this was thanks to the use of patented microwave technology in their production, which pasteurised rather than sterilised the dishes (rsp: £1.99/400g-500g).
Enterprise Brands director Mike Connolly said the brand could help cut down on the "significant wastage cost" in the chilled ready meals category given some retailers were "suffering anything from 10%-25% waste on short-dated ready meals".
The 16-day shelf life is significantly longer than what is offered by the bulk of retailer chilled ready meals: Tesco's website, for instance, lists the majority of its chilled ready meals as having a five-plus or six-plus day shelf life, while Morrisons' are generally listed as three-plus or four-plus days.
Enterprise planned to expand the range down the line with Sweet & Sour and Chicken Tikka Masala SKUs, Connolly added.
The technology used is owned by Belgian supplier Tops Foods, which manufactures the Pvre ready meals brand and sells it in Europe. Enterprise previously partnered with Tops to launch Pvre in the UK, but it did not gain national distribution.