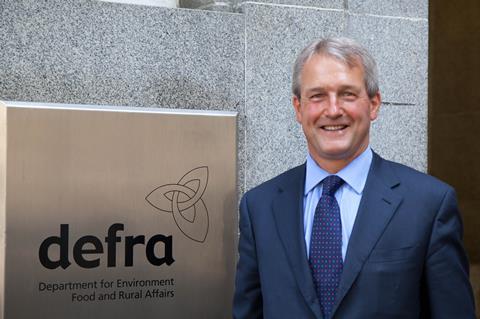 Former Defra secretary Owen Paterson has defended his actions after a parliamentary inquiry found he breached MP lobbying rules for two companies he was paid to advise, including Finnebrogue owner Lynn's Country Foods.
The Shropshire North MP – who served as secretary of state for Northern Ireland from 2010 to 2012, and as environment secretary from 2012 to 2014 – now faces a 30-day ban from Parliament, and a possible recall petition that could lead to a by-election, after the parliamentary Committee on Standards ruled he had "brought the House into disrepute".
In a report published by the committee yesterday, parliamentary commissioner for standards Kathryn Stone found that Paterson – a paid consultant to both Lynn's Country Foods and clinical diagnostics company Randox – had breached rules prohibiting paid advocacy by making a total of 14 approaches to the FSA and the Department for International Development on behalf of the two Northern Ireland-based businesses from 2016 to 2018.
The breaches included seven lobbying approaches to the FSA linked to Lynn's. Communications included the expression of concerns over a new Kerry Foods ham product, which – similar to Finnebrogue's yet to be launched nitrite-free Naked Bacon range – claimed to be "all naturally cured" and chemical-free, but was later found to contain traces of nitrites derived from celery.
Paterson also contacted the FSA chair to express concerns over an EU Commission Rapid Alert System for Food and Feed (RASFF) notification about the Prosur ingredient used in the Naked range instead of nitrites. The notification was described by the MP as "a concerted attack" on the Naked range by processed meat companies that sold products containing nitrites.
The committee agreed with commissioner Stone that Paterson "may have been approaching the FSA with evidence of what he considered to be a serious wrong, but his clients, Lynn's, did stand to benefit directly from his approach".
Finnebrogue declined to comment.
Responding to the investigation, Paterson had argued that the majority of his approaches fell within the 'serious wrong' exemption in lobbying rules, which permit an MP to approach a responsible minister or public official with evidence of a "serious wrong or substantial injustice" which would otherwise breach the lobbying rules, as long as any benefit conferred is "incidental".
However, the committee did not accept this argument, apart from in one approach, and ruled his lobbying actions were "an egregious case of paid advocacy".
It added: "Each of Mr Paterson's several instances of paid advocacy would merit a suspension of several days, but the fact that he has repeatedly failed to perceive his conflict of interest and used his privileged position as a Member of Parliament to secure benefits for two companies for whom he was a paid consultant, is even more concerning."
Following the publication of the report, a strongly worded statement by Paterson denied any wrongdoing, questioned the integrity of the investigation, and claimed the "process I have been subject to does not comply with natural justice".
He added "lives will have been saved" from his approaches regarding Lynn's Country Foods, and separate concerns raised about antibiotics in milk, relating to Randox.
The MP said the "catastrophic" impact of the inquiry had also taken its toll on his family, adding the manner in which the investigation was conducted "undoubtedly played a major role" in the suicide of his wife last summer.
Paterson called on Parliament to "waive privilege and permit me to prove my case in court", adding "I am not guilty and a fair process would exonerate me."
His suspension will need to be ratified by MPs. However, dozens of Tory MPs were reported to have threatened to vote against a motion to suspend him in media reports today.