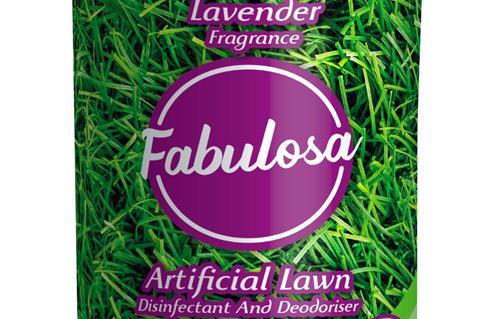 Fast-growing household brand Fabulosa has hailed a "hat-trick of wins" for its portfolio of fragrance-led products.
First is its expansion into five sectors: paper products, car care, personal care, outdoor and gifting. The likes of Blueberry Sugar Kitchen Roll, Interior Cleaner & Foam Freshener, Hand Wash, Artificial Lawn Disinfectant & Deodoriser and cleaning gift sets in partnership with Minky have joined Fabulosa's portfolio.
With rsps from £1.69 to £4.49, the new lines boast fragrances such as Sage & Vanilla, Raspvilla, Freshly Mown Lawn and Electrify. They proved "that Fabulosa, with its covetable brand equity, can transcend into multiple categories" it said.
They come as the brand – which is available from Morrisons, Ocado and Asda – has secured its first major overseas retail listing. It is rolling out across France into 100 stores of discount chain Babou. The retailer will stock Fabulosa's various cleaning sprays, all-in-one aerosols, foam fresheners, washing machine cleaners and laundry cleansers.
Finally, the brand was "now also ahead of Dettol in terms of volume market share" within antiseptic and liquid disinfectants, it claimed, citing Kantar data for the 52 weeks to 21 February 2021.
Since Fabulosa's launch around two years ago, it had "achieved the highly coveted status of being the millennial's disinfectant of choice" it said.
Earlier this year, Fabulosa marked £30m of sales in 2020 for its overall portfolio, while also targeting £40m for 2021. It has since reforecasted and expects to achieve more than £50m.
"Reviewing our growth trajectory, it's been another incredible few months," said MD James Sharpe.
"To secure such major market gains in the established disinfectant market, and then go on to successfully enter into several other categories, with the firm intention to be just as disruptive with our product innovation and creative approach on an international scale, is testament to our vision for the brand and belief in what we can achieve."