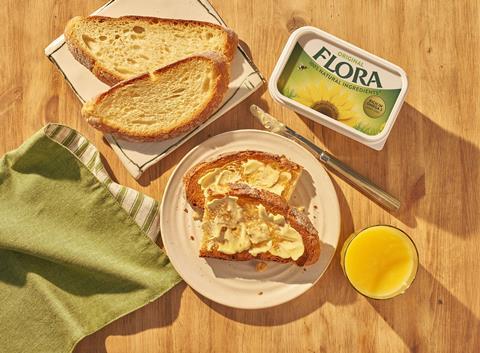 Flora owner Upfield fell to a £28.5m operating loss in its first year of separation from previous owner Unilever, but the spreads business has since experienced a resurgence of sales amid the pandemic.
Newly filed accounts for Upfield Foods, the UK operating company of the new Flora and Bertolli owner, show the group tumbled to an operating loss of £28.5m in the year to 31 December 2019. That compared with a £4.6m profit in the previous year.
Sales edged up 0.9% to £187.1m, but its bottom line was hit by a huge hike in administration expenses, which rose from £24.9m to £66.5m as a result of the closure of its Purfleet manufacturing site.
The group's decision to shift manufacturing to Europe saw a gradual shutdown of its UK site during the year, with decommissioning and restructuring costs weighing on its 2019 profits despite selling the site to CRO Ports for £27m.
However, Upfield's spreads portfolio has since received a significant boost as consumer habits have shifted in the coronavirus pandemic, with Flora sales growing 11.2% to £81.8m in the past year [Nielsen 52 w/e 27 March 2021].
An Upfield spokesman said the significant change in consumer behaviour since March 2020, including home baking and the rise of flexitarianism, made this "an incredibly exciting time for the business and the BSM category".
"40% of Brits have bought plant-based dairy alternatives in the last year. Given that millions are beginning to adopt this flexible dietary change, we expect home cooking and healthier eating to stay," he said.
The spokesman said that Brexit and an increase in the price of global commodities continued to affect its bottom line, but that it continued to strive to "make our manufacturing and operating processes ever more efficient and offer the very best value we can".
Upfield took control of Unilever's spreads portfolio on 2 July 2018 after private equity giant KKR agreed a €6.8bn deal to acquire it in December 2017
During 2019 Upfield reformulated and relaunched its Flora portfolio as part of a pivot towards 100% plant-based ingredients.
However, in October 2020 it reintroduced buttermilk to the Flora Buttery recipe as shoppers demanded "the familiar taste profile" and taste of Buttery's previous incarnation.