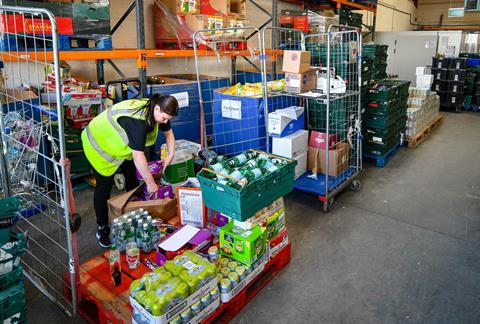 Food redistribution charity FareShare has urged all major supermarkets to launch online donation services to tackle food poverty, amid fears traditional in-store collections are being hit by the latest Covid restrictions.
Sainsbury's this week launched a direct to FareShare food donation service on its grocery shopping website, following a pilot that began in August and raised more than £120,000 in six weeks.
The service allows customers to donate £1, £2, £5 or £10 alongside their online orders direct to FareShare, which has offered to buy food at cost to help feed charities and community groups.
In Sainsbury's initial trial, tinned meat, fish and fruit was bought for groups feeding hungry families with food parcels.
FareShare said that with many shoppers switching to online and Covid placing physical restrictions on in-store collections, it was important that grocery websites allowed shoppers to continue feeding food banks and charities.
"This is the first time customers can donate directly from online shopping," said FareShare commercial manager Polly Hofmann. "The pilot was very well received and many customers have been asking for it to come back wso we're very pleased it's launching again.
"Obviously some customers will want to continue to shop in store but we know that many are switching to online and looking at that through the prism of FareShare we want those people to still be able to donate."
Other supermarkets have also stepped up online help to FareShare and other charities.
Last summer Tesco launched a Clubcard donation scheme alongside its traditional in-store food collections, allowing customers to donate Clubcard points online to FareShare or the Trussell Trust.
FareShare said it had received almost £40,000 since the scheme launched.
Tesco has continued to hold in-store collections in support of FareShare, but Covid restrictions have meant they cannot, as in previous years, be manned by FareShare volunteers.
Meanwhile, Waitrose customers have been able to donate online as part of the John Lewis 'Give a Little Love' campaign.
Hoffman said: "The food crisis we are facing because of the pandemic is sadly something which is going to last for years, so it's really important retailers adapt services to allow customers to help, whether they shop in store or, as increasingly they are, online."