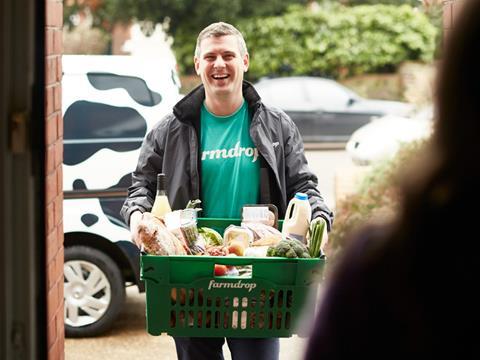 Fresh produce delivery service Farmdrop lost a further £10m last year despite a spike in sales during the pandemic, leading its auditor to warn it requires significant funding to continue.
Newly filed accounts at Companies House for the year to 30 June 2020 show sales at the DTC startup, which delivers fresh produce from farmers and a network of suppliers, more than doubled to £11.8m from £5.4m in the previous year.
The pandemic brought "unprecedented growth in order volumes" from new and existing customers, with the group temporarily raising its minimum order level to £60 to cope with demand as average order values jumped by 50%.
However, growth in orders did not translate to profitability due to the extra costs incurred by the added demand, with pre-tax losses of £10m compared with £11m in the previous year.
That level of continued losses meant auditor UHY Hacker Young noted there was "material uncertainty" about its ability to continue as a going concern without "sufficient funding" to enable expansion.
The auditor noted that directors are confident current investors will support the company, with a funding round expected in the third quarter of 2021.
However, it stated: "Failure to raise sufficient funds would require a significant scaling back of operations and due to the ongoing losses being incurred the company may not be able to pay its liabilities as they fall due."
Farmdrop, which is backed by Skype founder Niklas Zennström's venture capital firm Atomico, Wheatsheaf Group, Impact Ventures UK, Zoopla founder Alex Chesterman and Asos co-founder Quentin Griffiths, raised £6m in 2020 to take its total funding to more than £30m since its 2021 launch.
A Farmdrop spokesman declined to comment on future funding plans, but commented: "In order to accommodate growth we made an upfront investment in expanding our operational facilities during the peak of the first lockdown.
"Investing early in this expansion has further improved our operational efficiency and enabled Farmdrop to grow more quickly during a period of unprecedented demand for online grocery."
Since the initial coronavirus period it has since lowered its minimum spend to £30 from £40 prior to the first Covid-19 lockdown.
Farmdrop has recently invested in a same-day delivery service through a partnership with Deliveroo.