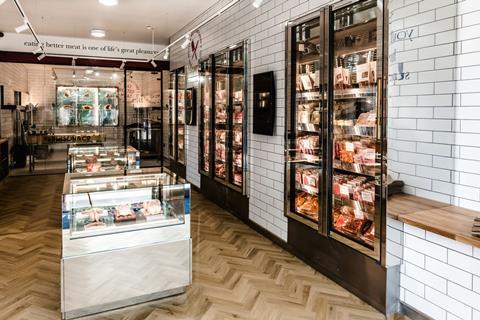 Online butcher Farmison & Co has recorded strong sales growth as it's kept hold of customers it gained during lockdowns, the retailer's data has shown.
When comparing the first half of 2020 with the same period in 2021, Farmison recorded a 17% growth in orders, with repeat orders up 39%. It means the platform has seen a 300% expansion in volume sales since 2019, it said.
The retailer, which opened its first bricks-and-mortar store in North Yorkshire last week, said its success had been down to investment in its platform as well as NPD.
It has re-engineered its website to grow capacity and improve the shopper experience, introduced a meal subscription option and unveiled a Saucepan Ready range of quick, convenient meals.
According to Farmison founder and CEO John Pallagi, its customers were also beginning to recognise the "importance of seasonality" in the food they were buying and were rejecting the "get-it-whenever mentality" driven by the major mults, which were often reliant on imports.
"As we've moved into more traditional buying patterns after the first lockdown, we've been delighted to see that the new customers who came to us in 2020 are staying with us," he said.
"Over the balance of 2021, we expect retailers dependent on imports of meat to face significant inflation as the cost of global transportation feeds through to on-the-shelf prices. There is no better time for those who share our mission for better meat, to actively seek out producers committed to British farms with local supply chains, based on the highest standards of husbandry."
Farmison said it had been particularly surprised by its inter-generational appeal. While its largest single age bracket is 26 to 35-year-olds, around half (49%) of its customers are aged 50-plus.
Established in 2011, Fthe business specialises in sustainably-sourced heritage breeds beef, including Red Poll, Aberdeen Angus, Shorthorn, Galloway, Dexter and Sussex that allow farmers to use long-established conservation methods. Over the past year, it has also invested in at-risk White Park and Gloucester herds.
The company now employs more than 100 people in Ripon and supports more than 35 farms and small-holdings across Yorkshire and the north of England.