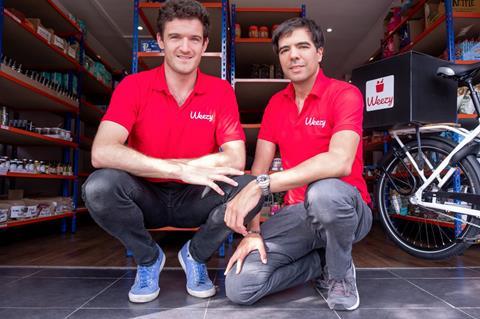 UK-based fast grocery delivery app Weezy is planning to roll out its services across London and further afield after raising $20m (£14.7m) in growth funds.
The app-based supermarket, which promises groceries within 15 minutes of ordering began to deliver in London during the summer after securing £1m pre-seed investment.
Now it is looking to scale up operations after raising $20m in Series A funding, led by New York-based venture capital fund Left Lane Capital.
Also participating are UK-based fund DN Capital, earlier investors Heartcore Capital and angel investors, notably Groupon founder Chris Muhr.
The funding will help expand the company's London-based team by 50 employees over the next four months, in addition to extra fulfilment centre staff.
Weezy is opening two fulfilment centres in Lambeth and London Fields this month, adding to its existing locations covering Battersea, Clapham, Fulham and Chelsea.
It plans to open 40 more UK sites by the end of 2021.
Since its launch in July 2020, Weezy has delivered fresh produce and household items to thousands of customers, using pedal cycles or electric mopeds, in less than 15 minutes on average charging £2.95 per delivery.
Weezy helps busy householders to shop for groceries quickly and says it "has proved to be a lifeline for all age groups during the coronavirus pandemic".
Kristof Van Beveren, co-founder and CEO of Weezy, commented: "People are no longer happy to wait around for deliveries, and there is strong demand for a more efficient service. Weezy customers love the friendliness of our team, the quality of our produce, and our quick, accurate delivery times. This new funding round will allow us to expand the team and our footprint to bring Weezy to more customers across the UK."
Harley Miller, managing partner of Left Lane Capital, added: "Weezy's founding team have the right balance of drive, experience and temperament to lead in e-commerce innovation and convenience within the UK grocery market and beyond. It is an honour to partner with them on this journey and help them solidify their first-mover advantage in London."
Seed investors in the business include former Ocado head of retail Jon Rudoe, who as digital and technology director at Sainsbury's founded Chop Chop and SmartShop; and Onefinestay co-founder Greg Marsh, an early backer of Deliveroo.