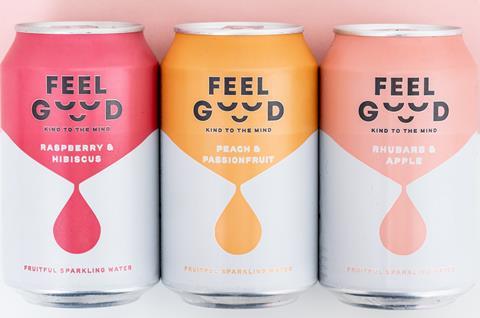 Feel Good Drinks has become climate positive – in what the Nichols incubator brand claims is a first for the UK's soft drinks category.
The business' achievement came by offsetting more than twice the 206 tonnes of carbon it produced in 2020.
Working with sustainability certification provider Planet Mark, Feel Good used the likes of Gold Standard's clean water programme and the CommuniTree reforestation initiative to offset 497 tonnes of carbon.
It was also recognised as a Planet Mark 2021 Business – which was "an internationally recognised sustainability certification for businesses acknowledging continuous progress, encouraging action and building an empowered community of like-minded individuals" Feel Good said.
The Lyme Regis brand has made a long-term commitment towards tackling climate change, underpinned by a nine-year action plan. It is working with its manufacturing and ingredients suppliers' chains, as well as wider industry stakeholders, to continuously reduce its carbon impact and implement more circular operational practices.
Feel Good said it intended to be climate net zero by 2030 across its direct carbon emissions, indirect emissions from the likes of generation of the energy it uses and "all other indirect emissions that occur in a company's value chain".
While reducing carbon emissions was not the only environmental challenge facing the brand, it was "a very important place to start" said general manager Ed Woolner. "In a century of rapid technological and industrial growth, humans have somewhat forgotten how fragile the natural world is and how much we rely on it for our wellbeing."
Feel Good hoped "to not only help protect the natural environment that gives us so much but also educate consumers as to how we can mitigate the issue and protect our planet" he added.
It comes after Nichols relaunched Feel Good in January as a separate incubator business with a focus on sustainability. At the same time, the brand unveiled its '3% for People and Planet Fund' – which donates 3% of sales to charities and non-profits that support personal and planetary wellbeing. They include Project Seagrass, which seeks to protect and restore seagrass ecosystems.
"Authentic partnerships are important to us, and so we are genuinely looking forward to working with Feel Good Drinks towards a world in which seagrass meadows are thriving, abundant and well managed for people and planet," said Richard Lilley, co-founder & CEO of Project Seagrass.