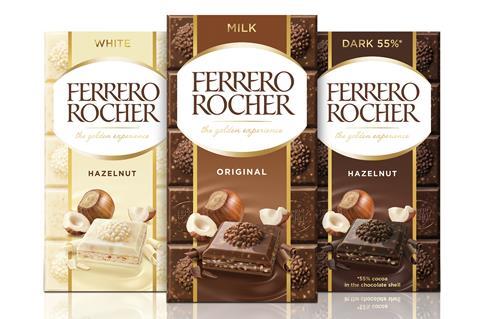 Ferrero is taking its long-standing Rocher brand into chocolate bars for the first time.
The confectionery and biscuits giant has created a trio of 'original', dark and white Ferrero Rocher bars combining the brand's chocolate with hazelnut peices, which will hit the mults from 9 August and the convenience sector from October (rsp: £2/90g).
The 90g bars would tempt "lovers of the brand to try the chocolate in a different way" and traditional chocolate bar shoppers "to trade up to something special", said Ferrero.
The brand was "in amazing growth" of 26% year on year, said Ferrero customer development director Levi Boorer. "We've not seen growth like this for many years. We are living in a very changing world where consumption trends have changed a lot."
Shoppers had "navigated back towards brands that they trust and have strong quality cues attached to them," said Boorer. "Rocher has been a real beneficiary of that."
The larger bar format would tap the "big night in occasion" that had continued to grow despite the easing of Covid restrictions, he added.
The launch will be backed by a £2.5m push including a TV campaign centred on the "surprising pleasure" of the brand in chocolate bar format. It would explore "the look, feel and taste to reinforce its luxury credentials", said Ferrero.
It's the latest in a swathe of NPD from Ferrero, which just last week took its Kinder brand into biscuits with the launch of a new 'Cards' range.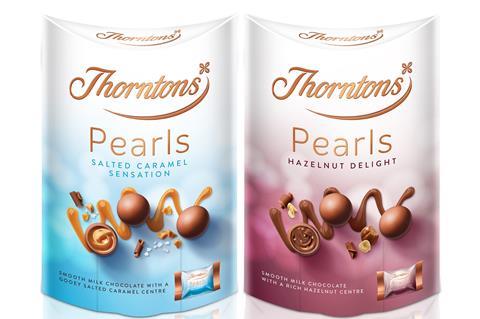 Meanwhile, Ferrero is also hoping to challenge the likes of Lindt with a new range for Thorntons called Thorntons Pearls, which have rolled out in two flavours: Hazelnut Delight and Salted Caramel Sensation (rsp: £4.50/167g).
The former comprised a "delectably luxurious praline filling, enriched with roasted hazelnut" while the latter variant "features a gooey caramel filling, balanced with a hint of sea salt", said Ferrero.