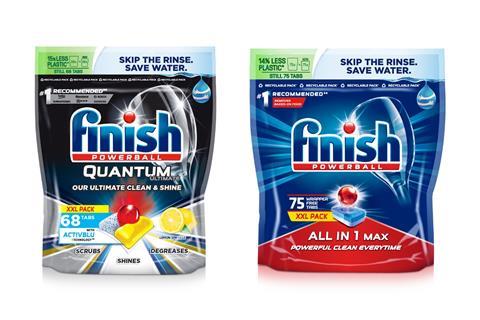 Finish has partnered with Tesco to roll out new reduced plastic packaging.
It has rolled out downsized packs that contain the same number of tabs but are made with up to 15% less plastic packaging.
Through the partnership, consumers will have the option to bring used packs into stores for recycling at plastic carrier bag recycling points in larger Tesco stores.
This would offer environmentally conscious consumers the option to better dispose of their used packs, said Finish.
Special labelling will also feature on pack to highlight the brand initiative.
"At Finish, we are constantly exploring how to minimise our environmental impact and our reduced plastic packs are an example of this commitment in action", said Stephanie Lilley, Reckitt Benckiser sales director for hygiene.
"It is important that consumers have more environmentally conscious options available to them without detracting from quality."
Tesco household category buying manager Lauren Tredgett said it was "vital" that retailers continued to work with branded suppliers to create a closed loop for packaging materials.
The move comes as part of a wider initiative by Reckitt Benckiser to make 100% of the plastic used across its products recyclable or reusable by 2025 and use 50% less virgin plastic by 2030.
It's the latest in a swathe of activity from household brands attempting to make their plastic packaging more sustainable.
Over recent months, Comfort transitioned its products into fully recyclable packaging made from "100% post-consumer recycled plastic".
In February, Mr Muscle unveiled new 100% PCR plastic trigger bottles featuring a perforated sleeve the brand said would help increase recyclability as it was "easily removed" by consumers.
Last September, Persil switched to 100% recyclable bottles as part of Unilever's 'Clean Future' initiative.