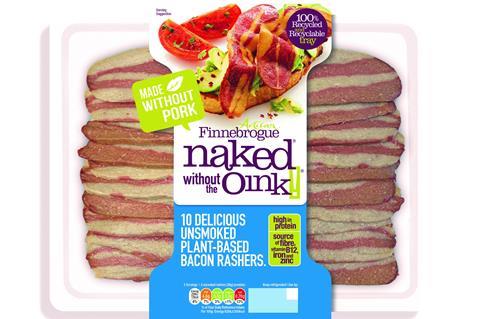 Naked Bacon owner Finnebrogue Artisan has so far avoided any major issues in transporting product between Britain and Northern Ireland, despite the disruption to trade over the Irish Sea.
Speaking as parent Lynn's Country Foods reported strong sales growth in its latest accounts, a spokesman for the Northern Irish supplier said it had been "well prepared" for the disruption, and had been "able to respond to minor bumps in the road".
Finnebrogue had been "at the heart" of "successful" government-led trials to try and find a solution to issues around groupage shipments, he said, adding the business was now "very optimistic" over the prospects of supply to GB, the island of Ireland and globally.
It comes as LCF posted a big sales increase in accounts posted at Companies House, with the supplier doubling turnover to £142m over an 18-month accounting period to 28 February 2020. This compared with a figure of £78m for the 12 months to 1 September 2018, and as a result, annualised turnover rose 21.4% since 2018.
Operating profit grew from £5.5m in the year to 1 September 2018 to £43.2m over the reported 18-month period. However, LCF said much of that growth was due to a change in accounting procedures, which saw a gain of almost £36m on to its balance sheet after it transferred the assets of two Finnebrogue subsidiaries into the core business.
Operating profit for continuing operations stood at £8.2m. Therefore, when annualised, it was largely flat compared to the previous accounting period.
The results follow the recent opening of a £25m factory designed to boost plant-based production. The facility was its fourth new plant in five years – taking its total investment in factories and equipment to £80m over the same period.
The supplier has also invested heavily in recruitment, hiring more than 300 staff over the past three months to take its headcount above 1,000.
"We are pleased with our annual growth of over 20%, which is a mark of the quality of the products we produce and the groundbreaking innovations we have launched," said chair Denis Lynn.
"Our new state-of-the-art plant-based food facility provides us with some of the most advanced and comprehensive plant-based production capability anywhere in Europe. Combine this new capability with our artisanal values and passion for making fantastic food and the future for Finnebrogue is an incredibly exciting one."